The US Defense Institute of International Legal Studies (DIILS) recently concluded a two-day seminar for members of the Guyana Defence Force (GDF) from September 28-29.
According to a press release, the seminar addressed issues of Human Rights and International Humanitarian Law, and also included presentations on the usefulness of developing rules for the use of force in performing security/law enforcement functions, and rules of engagement for conducting military operations.  Twenty-five officers from the GDF attended.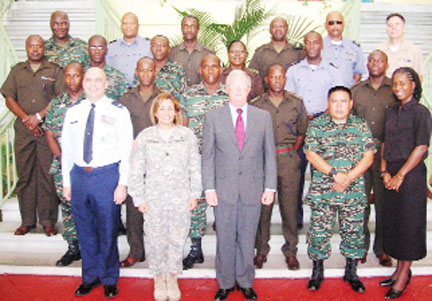 The seminar was designed to provide participants with background on relevant legal standards in international agreements and customary international law, and examples of implementing domestic laws with regard to human rights and international humanitarian law.
The US presenters were Colonel Rodger Drew, US Air Force, Staff Judge
Advocate, US Southern Command; Commander Jon Wagshul, US Navy, Deputy
Director, DIILS; and John T Phelps, Regional Program Director, DIILS.
DIILS serves as the lead US Department of Defense agency for professional legal programmes for international military and civilian government officials, conducting programmes on the rule of law, human rights, combatting corruption, war crimes investigations, the development of military justice codes, law of armed conflict and other legal topics relevant to the military.  Since being formed in 1992, the organization has educated over 30,000 military and civilian officials from 115 countries, the release stated.
Around the Web