–stock worth $1M damaged, Christmas sales in jeopardy
Christmas shoppers no longer have access to Boyo's Style and Fashion, located on Regent Street between Classic Styles and a property owned by National Hardware, after the store's roof was dismantled by a group of men claiming to have "a notice".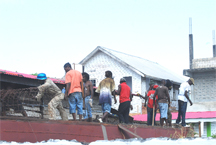 Maharanie Gangaram, owner of the boutique, told Stabroek News yesterday afternoon that she has suffered more than $1million in losses. The building in which Boyo's Styles and Fashion was located is owned by Sattaur Gafoor, owner of Gafoor's.
"I am not the owner of this property," Gangaram said. "I rent it from Gafoor's… about eight men showed up here earlier today [yesterday] and told me they were from National Hardware. They said they had a notice which I was supposed to sign and after I refused to sign anything they proceeded to rip the roof off the place." National Hard-ware could not be contacted for confirmation yesterday.
The distressed woman said that at the time her store was fully stocked with approximately $15 million in clothing and other items. As the men "ripped the store apart" Gangaram said, she and her employees were forced to remove as much stock as they could.
"We managed to remove as much things as we could but some of my stock was still damaged," the woman said.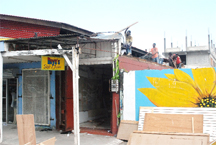 Gangaram could not respond when asked why the store was being dismantled. The woman said she had contacted her landlord, Gafoor, about the issue and an injunction was applied for in the High Court which halted the demolition.
"After the men came here and started to break I called my landlord about it and they eventually got some court order which stopped the men from further destroying the place," Gangaram explained and refused to comment further.
The roof of Classic Styles was also partially destroyed by the men while a sunglasses stall next to Boyo's was also forced to move.
Boyo's Styles and Fashion, this newspaper learnt, was located where an alley, separating the two buildings, should have been. This newspaper further learnt that because of its location Boyo's Styles and Fashion was discovered to be a fire hazard.
Reports also said that the Mayor and City Council (M&CC) had declared Boyo's a fire hazard and the demolishers were dispatched by the M&CC.
However, when contacted early last evening, Mayor Hamilton Green said the demolishers were not dispatched by the M&CC. He said reports were received about the building and a notice was sent out ordering that corrective works be done.
"No, we did not send anyone there to demolish any part of that building…," Green said. "I know there was a notice issued which ordered that corrective works be done to the building… I can't remember how long ago the notice was issued."
Around the Web