The possible cultivation of a new variety of rice in Region Nine was discussed by a visiting Brazilian rice team and Minister of Agriculture, Robert Persaud yesterday.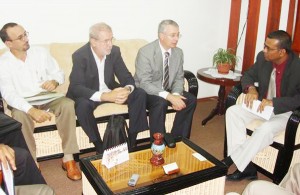 An initial feasibility study carried out by the Brazilian team of representatives from the company RiceTec, according to a ministry release issued yesterday, indicated that conditions are suitable for planting the propose rice type in the Upper Takutu/Upper Essequibo region.
Regional Director of RiceTec Markus R Ritter, the release stated, informed that the new variety provides higher yields and increased benefit to farmers. RiceTec, Ritter continued, "will work with the Governments of Guyana and Brazil to initiate the necessary protocols to commence this project".
Persaud, the release further said, urged the Brazilian company to consider value added production to create employment and collaborate with local farmers and officers of the Guyana Rice Development Board to facilitate technology transfer.
In an invited comment, Persaud told Stabroek News that the Brazilian team has proposed "upland rice" which he described as a new hybrid.
This hybrid, the minister explained, is suited to the conditions of the Rupununi Savannah area in Region Nine.
However, the minister said he has requested a detailed proposal from RiceTec and stressed that "if" Guyana goes ahead with the project then it will aim at developing Upper Takutu/ Upper Essequibo and further ensuring our food security. Based on what he's heard thus far Persaud believes that "we stand to gain" from the proposal.
Comments

On Friday, the Ministry of Foreign Affairs concluded a five-day orientation programme for newly recruited Foreign Service Officers (FSOs), which was held at the Roraima Duke Lodge in Kingston.

HARARE,  (Reuters) – Robert Mugabe resigned as Zimbabwe's president on Tuesday a week after the army and his former political allies moved against him, ending four decades of rule by a man who turned from independence hero to archetypal African strongman.

Travis Cleveland c/d 'Spin and Kill', 31 years , unemployed of 337 South Sophia has been charged with murder of Jamal Munroe which occurred on November 03, 2017 at Black and White Bridge, 'C' Field, Sophia, ECD, the police say.

YANGON/NAYPYITAW, (Reuters) – Members of the U.S. Congress said today operations carried out against the Rohingya Muslims in Myanmar had "all the hallmarks" of ethnic cleansing, while the country's leader Aung San Suu Kyi expressed doubts about allegations of rights abuses.

The leadership of the Alliance For Change (AFC) is to formally write A Partnership for National Unity (APNU) on a revision of the Cummingsburg Accord which birthed the coalition and saw it winning the 2015 general elections.