President of the Guyana Olympic Association (GOA) K. Juman Yassin is expected to meet with Minister of Culture, Youth and Sports, Dr. Frank Anthony, tomorrow to discuss Guyana's participation at the inaugural Caribbean Games set for Trinidad and Tobago in July.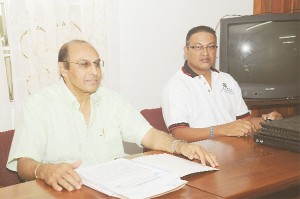 This was disclosed by the GOA boss himself at a press briefing yesterday at Olympic House.
The commencement of the prestigious games, which takes place  from July 12 – 19, is a little less than six months away and Yassin yesterday re-iterated the fact that this country would compete in the 26-country, five-discipline competition.
Juman Yassin recently returned from a Caribbean Association of National Olympic Committees (CANOC) Meeting for members of participating countries where a number of issues geared to ensure the success of the 2009 Caribbean Games were discussed.
According to Yassin, it was unfortunate that Grenada, Haiti, Belize and the Dominican Republic, were unable to have a representative present.
The conference dealt with the organizational aspect of the competition and other main issues such as the Games Village which is under extensive renovation in an effort to seat 15000 athletes and officials.
The opening ceremony on July 12, along with the track and field events, will be staged at the Hasley Crawford Stadium.
Boxing will be held at the Woodbrook Youth Facility, netball at the Jean Pierre Complex, lawn tennis at Shaw Park in Tobago and volleyball at the UWI (indoor) and Saith Park, Chaguanas (beach).
"All numbers of participants were to be handed in to the organizing committee no later than January 11 and Guyana has already submitted their numbers," Yassin disclosed.
"Guyana will be competing in track and field, boxing and tennis (lawn). We will not be taking part in volleyball because we are not well groomed in that area, we have not had any terrific international exposure", he added.
There are 11 categories in the boxing competition and Guyana will field a boxer in each category.
There will be one male and female representative for the lawn tennis singles competition while in track and field; there will be one female and one male competitor in every track event from 100m to 1500m except the 800m and 1500m.
The names of two females and two males have been submitted for the 5000m and 10,000m respectively.
There will be two officials each accompanying the respective disciplines of tennis, track and field and boxing.
Yassin also disclosed that Guyana's top long distance athlete Alika Morgan might compete in a 10km race in Jamaica this month-end at the GOA's expense.
While in Jamaica, Morgan might also participate in sessions at the International Amateur Athletics Federation (IAAF) Development Facility in the lead up to 2009 Caribbean Games.
Around the Web