Buxton's Nykasie Liverpool is one of Guyana's leading assistant referees.
Liverpool recently officiated at the International Football Federation (FIFA) Women's Under-20 World Cup competition which was held in Chile from November 16-December 7 last year .
"I left Gu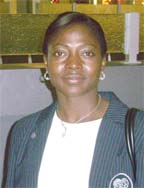 yana on the 12th as FIFA required us to be in Chile early so we could acclimatize and conduct our physical evaluation before the tournament commenced. That evaluation was conducted by two officials whom I thought forgot that we were women."
However, Liverpool noted that FIFA was  paying  the big bucks and they expected everyone to perform at their  best at all times.
"I did two games and when the time came for some of us to be sent home, I thought I would have been on that list but they kept me on until the final which was won by the USA," she added.
"I got the opportunity to meet other persons and learn their culture whilst I was in Chile."
The 34-year-old Liverpool, who was born under the Zodiac sign of Taurus, began her refereeing career at age 26.
Initially a footballer, Liverpool wanted to know more about the game's rules and regulations.
"I started playing football in 1995 following an injury-plagued athletics career," she said.
"I gave up my athletics career in high school on the advice of a doctor and when my athletics coach Robin Phillips started a football club in Buxton, I decided to play the game, which I did from 1995 to 1999.
"At the age of 16, I was diagnosed with rheumatic fever. My body would be in lots of pain, especially in the joint areas and the doctor advised that I stay away from all athletic and sports activities," she recalled.
But when she heard about the football club, she admitted that she just could not stay away, so she ignored the doctor's orders and began playing football.
"I decided to do the referee's course in 1999 with the intention of increasing my knowledge of the game.
"Linden France saw my results in the newspapers and encouraged me to continue as he felt that I had the potential to go a far way in that area.
"Thus I pursued a career as an assistant referee and that's what I am today."
Liverpool says she still remembers her first game and the lessons she learnt from that match.
My first game
"My first game was between Western Tigers (now BK International Western Tigers) and Santos Football Club respectively. This game was being played at a fast pace as Western went ahead early and was being pressed by their opponents who were looking for the equalizer.
"With the crowd cheering them on from the sidelines, Santos won a free kick just at the top of the 18-yard box. The kick was taken and the ball found its way past the goal line before a Western Tigers defender made the clearance. Santos appealed for the goal and being in a  perfect position, I was able to uphold that appeal by indicating to the referee that the ball did cross the goal line.
"This angered not only the Western Tigers players, but their supporters and the game was brought to a temporary halt. I remained focussed and after encouragement from my fellow referees, I regained my composure and when the game was re-started, I continued to execute my duties without fear or favour," said Liverpool.
She remembers that after that game, Lawrence 'Sparrow' Griffith went to her and offered words of advice and encouragement. He told her that as a referee's assistant, she would encounter such episodes while doing a game. "This I have learnt and now the spectators can say anything to me and it doesn't trouble me at all."
Prior to officiating in a match Liverpool goes through a few pre-game rituals.
Pre-game rituals
"I always practice myself to get to the arena where the game is being played, at least 30 minutes before the whistle is blown, so I can be mentally prepared and relaxed. My main focus is to go out there and execute my duties to the best of my ability and this is done by knowing the two teams who will be contesting the game, along with refreshing the laws in my mind, the most important one being the offside (rule)," she added.
"On the physical side of things, I get ready with my warm-ups which consist of short runs and stretches. This enables me to be loose physically and with the mental side being completed in the dressing room, I just go out there and carry out my duties with the greatest of ease, even though it can be strenuous at times, especially with ground conditions."
The third of five children, Liverpool idolizes football referee Dianne Ferreira-James whom she says executes her duties with the greatest of ease.
"I first saw her when we were on different sides of the field. She was playing for Georgetown and I was representing the East Coast and our friendship kicked off from there. We even played for Guyana together a few months later against Trinidad," said Liverpool.
"Even though our responsibilities on the field are different, I admire the way she does things. The hard work she puts in to achieve her goals. She encourages me to go out there and do my best, even telling me that my turn to be in the middle will come one day.
"She saw the determination in me as I told her time and time again that I don't want to be just a referee's assistant, but achieve all that I can achieve from being one."
Liverpool, a University of Guyana Business Management student, plans to own her own business in the field of interior decorating.  She, however,  has no plans of carrying the whistle in the middle any time at all in the future.
"I love what I am doing as an assistant referee and whilst being in the middle is an honour, to my mind the referee's assistant is a very important person on the field. When we go to a referee's course, you have the choice of deciding where on the field you wish to be and I love being on the touchline. I love calling the offside. That's one decision the referee cannot overrule."
Liverpool would like to start a family in the not too distant future.
"FIFA has an age limit. But in the next five years, the journey as a referee would be over for me. I plan on calling it quits from the international scene at the age of 39.
But I will still be around to do local games. But before I do so I would like to officiate in a World Cup game or even the 2012 Olympics. For me, that would be the icing on the cake of my career as a referee.
"When I call it a day, I would then concentrate on owning and managing my own business which I intend to set up in the area of interior decorating. I love moving and fixing things, hence my classes in Business Management at UG," she said.
While others find it difficult to manage their studies and work at the same time, Liverpool, who described herself as a simple, easy-going person who enjoys doing what she does, stated that it is not so difficult for her.
"With my classes being held in the evenings, I would do my training early in the morning. If I have to travel out of the country on a game assignment, I have some wonderful friends who would ensure that I got my notes as well as assignment questions. They keep me up to date with what goes on in my absence." Liverpool took the opportunity to say thanks to God, family and friends for the strong support they give to her.
"All of my achievements as a football referee would not have been possible without God. When the doctor told me at age 16 that I have to give up my athletics career, I felt depressed but ever since I started my refereeing career, I can safely say that I have not been bothered by that or any other illness."
"There is also my family, especially my mom and niece, my friend Venita Mars along with the entire Guyana Football Referees Council (GFRC). Those are the persons who played a great part with my preparation for the Women's Under-20 World Cup and I am happy that I did not disappoint them."
Liverpool is hoping that her male counterparts who are executing their duties efficiently here in Guyana would  get the opportunity to officiate one day in a World Cup tournament, irrespective of whether it is Under-20 or the senior level.
For now, becoming her own boss and starting her family after putting down the flag on her career are the next steps. Then some lucky man would eventually get an accomplished wife but one would  hope that he is not caught in the off side trap, or he will be signalled.
Around the Web