By Rawle Toney
Known for his dominance on the football pitch as a midfielder, national player Kayode "Magic Man" McKinnon will attempt the impossible on Saturday when he participates in a run from the Linden/Soesdyke Highway junction to the Minibus Park in Linden, a distance of approximately 40 miles.
According to McKinnon the run is to focus awareness on children affected by and infected with the HIV/AIDS epidemic in Linden.
In an interview with Stabroek Sport the "Magic Man" said that he will be running under the banner of the "Hands of Love" organization which is based in Linden and attends to children who are affected by the disease.
"When I first came up with the idea, many questioned if I will be able to make it or not, or if I was crazy. Some tried to talk me out of it, but I believe that I could since I would like to raise the awareness of the deadly disease called AIDS," Mc Kinnon said.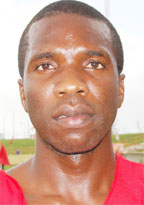 He added: "I'm not doing this for me so I have nothing to gain from it but in my later days I could  say that I have in some way helped to make an impact on the lives of the children who are being affected by AIDS. The run is just to help raise some funds for the organization (Hands of Love) so that they will be able to take better care of those children."
"They take care of children who are affected by HIV/AIDS either by the loss of their parents or guardians or they are infected with the disease, so it would be a great accomplishment to know that I can in some way make a difference. Sometimes you have to do things out of the ordinary to get people's attention."
He said that so far no business in Linden has come forward to give a monetary contribution but the support so far from persons within the community has been significant.
McKinnon said that it is not clear if such a run was ever accomplished by anyone but said he was more than ready to go.
"I chose a run because I think I can get people's attention faster. People have over the years cycled the distance, while some mentally insane persons have walked the distance so if I can walk it for a cause such as this I'm sure that it will make an impact.
"I think that I'm ready mentally and physically. I'm a professional football player and as such I have to always be physically fit, but I have made adjustments to adjust my body to withstand the pressure of running such a long distance. I have changed my diet and personal habits and right now I'm working on mental preparation," said McKinnon.
Asked if he will be doing it alone, the national footballer said that several persons including members of his local club, Bakewell Topp XX, have pledged to join the run from various stages along the course in an effort to provide support.
The football player who has enjoyed an illustrious career playing both locally and internationally said that the support from the Linden police and the hospital has been great so far and  everything is in place for his mission impossible run on Saturday, February 14.
Kayode will begin the run at 6 am and is calling on the public to support his fight against AIDS.
Around the Web