Fruta Conquerors rallied to victory to become the first ever champion in the inaugural Williams Cup U-11 Knockout Football Tournament when they defeated Santos Football Club 1-0 at the Tucville Playfield yesterday.


Organized by the Georgetown Football Association (GFA) and sponsored by United Kingdom-based Guyanese Dr. Rawle Williams, the tournament began in 2008 and was scheduled to conclude yesteryear but was halted due to the inclement weather which also cancelled the remainder of the GFA season.
In the feature match of the double header Conquerors just made it past their opposition to win 1 – 0 while Marian Academy (MA) finished third ahead of Beacon United who gave them (MA) a victory via the walk over route.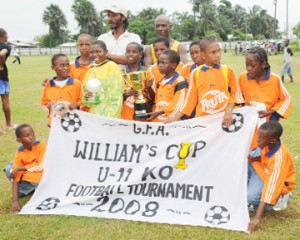 A 2pm start was scheduled for the third place showdown between MA and Beacon but Beacon were not able to present a squad to take the field giving the referee no other alternative than to give MA the victory.
The final saw both teams playing tight, aggressive football along with some resolute defending but it was the eventual victors that controlled the ball and attacked for the majority of the encounter with Ryan Hackett who put on a Most Valuable Player (MVP) performance with support from fellow striker Romelo Fraser.
FC was solid in defence with Randy Lane putting in an unyielding effort at the back along with FC's custodian and captain Rawle Thomas to secure their uprights for the entire 50 minutes of play.
The first 25 minutes concluded with no team being able to pierce each other's uprights but Hackett, who was adjudged MVP at the end of the encounter, scored in the 49th minute to take his team to victory one minute before regulation time.
Hackett and Santos' Travis Fitzpatrick with four goals each shared the prize for the top goal scorer in the tournament.
Around the Web