– donates 12 pieces of power lifting apparel
Former Guyana power lifting champion turned bodybuilder Hugh Arlington Ross has made a timely donation of power lifting apparel to the Guyana Amateur Power Lifting Federation (GAPLF).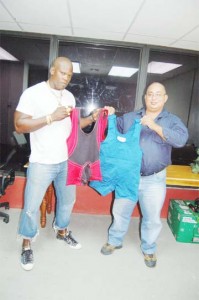 Ross, who also dominated the power lifting arena in the United States and resigned as the USPF National Overall Masters Champion and best lifter back in 2000 said he was aware that the GAPLF was hosting the regional championships in April next year and felt the need to assist the federation.
Included in the 12 pieces sent are four blast shirts and eight squat/dead lift suits in assorted sizes ranging from 165 to 198 pounds.
Making the presentation on behalf of Ross to president of the GAPLF Peter Green was Dexter Garnette.
Green, just re-elected for his second one-year term at the helm of the sport, said the federation is very grateful to Ross for the  "significant gesture" by Guyana's most famous body builder and former power lifter.
"I trust that that other overseas-based Guyanese and former lifters will be encouraged and motivated by Ross's donation and will chip in also to help the less fortunate lifters in any tangible way to offset the high cost of equipment and  gear."
Green said that the federation is working towards procuring new and approved weight sets (squat and bench press) and assistance in that regard would be welcomed.
Around the Web