Both the Minister of Sport Dr. Frank Anthony and Director of Sport Neil Kumar expressed their satisfaction with the turnout and support given to the just-concluded National Sports Commission (NSC) Mashramani Inter- secondary School Basketball Tournament, and have promised more basketball among the schools.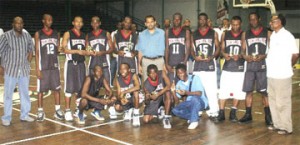 The event which ended Sunday last at the Cliff Anderson  Sports Hall (CASH), saw the participation of 17 schools from around the City, East Bank and East Coast of Demerara, with the Government Technical Institute (GTI) being crowned champions after defeating President's College in the finals.
According to Kumar, since Guyana will be defending their basketball title in the second leg of this year's Inter-Guiana Games (IGG), the school tournament came in handy to help the NSC select the players very early.
Added to this, the Sports Director mentioned that after the CXC exams, the NSC will be running a nationwide tournament which will bring together the winners from the respective zones around Guyana for a grand finale in Georgetown.
"I am so impressed with the turnout and the support shown to this tournament that I would like to generate more interest in the sport through the schools. Presently I am planning a big national tournament but I will have to make sure that the children are of age so that if they are good enough, they can make the IGG team," said Kumar.
Meanwhile, after GTI won the title without much opposition, it was announced that the institution will be omitted from upcoming competitions.
Moreover, he said that his ministry will also be paying more interest in female participation since over the years there has been a drastic decline in that aspect of the sport.
Minister Anthony also elaborated on this issue, stating that he wants to encourage the school systems to make sure that the sport of basketball has more ladies involved, as well as other disciplines.
Anthony emphasized the need to regenerate school basketball throughout Guyana since it is the only way the sport can continue.
"As part of our mandate at the Ministry, we would make sure that there is more school competition not only in basketball but in other sports as well. I would really like to congratulate the participants who have shown that there is a lot of talent in the school system but this just needs to be exposed," said Minister Anthony.
Around the Web