-Seeram hopes his bowlers get it right
Coach of the Windward Islands national team Ian Allen is looking for a repeat result  while Guyana's Rabindranauth Seeram hopes his bowlers get it right when the two teams clash in their eighth round encounter of   the West Indies Cricket Board (WICB) regional four-day competition at the Guyana National Stadium from today.
When these two last met at the Grenada National Stadium the Windward Islands inflicted an innings and 147 runs defeat over their more illustrious opponents, who went on to suffer three consecutive defeats, before eking out two draws.
"I expect the same result, especially with the absence of Ramnaresh Sarwan and Shivnarine Chanderpaul from the team. But at the same time, I am expecting a more competitive Guyana side to face us this time around, as the one we faced in the first round was younger," said Allen.
"Apart from that, they are playing at home therefore they cannot be taken lightly. We do expect them to come at us hard tomorrow. But having said that, we'll be going into this contest confident that we can have the same result as the first round."
The Windwards had their first practice session at the venue yesterday after rain washed out Wednesday's planned session, without Devon Smith who scored a double century against Guyana in the first round.  Allen readily acknowledged that his absence would be a big impact on the team.
"The absence of Devon is a big impact in the team as he is our leading batsman. But this gives the other guys the opportunity to perform and at the same time gives Devon the feeling that he can come back into the team and play freely."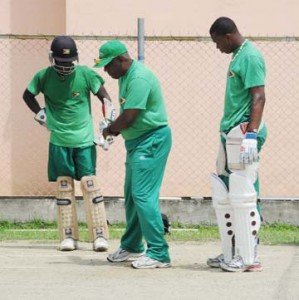 Allen is hoping that Johnson Charles who has had two half centuries so far and Kevin James who scored his maiden first class 50 can both come to the party and play their roles in the team, while skipper Rawle Lewis who has not been bowling well due to a finger injury, has been producing with the bat.
Opener Keddy Lesporus has come on leaps and bounds in the team while Darren Sammy is no stranger to Guyanese soil as he is known to score heavily here  while Deighton Butler and Nelon Pascal who is returning after a side strain, will be backed up by leading wicket taker Shane Shillingford, Camillus Alexander and Sammy in the bowling department.
The batting will be strengthened with the inclusion of Stanford 2020 Superstars opener Andre Fletcher, with strong support from Mervin Matthew, Alston Bobb and Donwell Hector.
But while Allen is looking for a repeat first round performance, his opposite number  Seeram is hoping his bowlers can get it right, calling on them to exhibit more patience.
"In their first four away matches, the batting was a problem as the bowlers were doing their job. Suffice it to say it is the other way around now with the bowlers struggling whilst the batsmen are pulling their weight."
The coach was making reference to Guyana's bowling performance in their two matches at home against Jamaica and Trinidad and Tobago respectively, where the opposition compiled scores over 400 and 500 respectively.
"The bowlers need to exhibit a lot more patience. This has been lacking in the last two games where they expected to roll over batsmen easily at this level. I would like to see them go out there and restrict the opposition for a low score but at the same time they need to be patient," said Seeram.
Guyana's batting will be strengthened with the inclusion of discarded West Indies opener Sewnarine Chattergoon and according to Seeram, his presence would be an added boost to the team, especially the younger batsmen.
"His presence would definitely be appreciated in the team, especially for the younger batsmen. Even though we have been getting some good scores from some of our batsmen it would be a privilege to see some of the others going on and consolidating on the starts they have been getting."
Like the Windward Islands, Guyana had their first and only practice session at the venue yesterday morning under the watchful eyes of Seeram and physical trainer Orin Bailey, with Chattergoon,  who is returning from an elbow injury, having an extended knock in the nets.
Even though Leon Johnson was suffering from influenza, he is expected to be in the final eleven today with  Christopher Barnwell who had a good start against T&T being expected to partner Chattergoon at the top.
The inform Narsingh Deonarine will retain his place at number four, with skipper Travis Dowlin, Royston Crandon, Steven Jacobs and Darwin Christian offering valuable support.
The bowlers would be relieved to know that left arm orthodox spinner Veerasammy Permaul is back after damaging the webbing to his bowling hand on the first day against Barbados but would be concerned over the availability of right arm leg spinner Devendra Bishoo.
The new ball will be taken care of by Esaun Crandon and Trevon Garraway with support from Barnwell, as West Indies 'A' team fast bowler Brandon Bess was rested for this encounter.
Whichever way it goes, Guyana will be looking to avoid a second loss to their opponents who want to repeat their first round performance, even without the services of Devon Smith.
Team Guyana from: Travis Dowlin, Sewnarine Chattergoon,  Christopher Barnwell, Narsingh Deonarine, Leon Johnson, Royston Crandon, Darwin Christian, Steven Jacobs, Esaun Crandon, Veerasammy Permaul, Gajanand Singh, Trevon Garraway and Devendra Bishoo.
Windward Islands from: Rawle Lewis, Darren Sammy, Nelon Pascal, Shane Shillingford, Johnson Charles, Deighton Butler, Camillus Alexander, Kevin James, Andre Fletcher, Keddy Lesporus, Mervin Matthews, Alston Bobb and Donwell Hector.
Play will get underway from 10:00am.
Around the Web