– Bishoo and Crandon brothers out of team
With a record of five defeats and two draws, host Guyana would be looking to redeem themselves when they face the Combined Campuses and Colleges (CCC) in their ninth round clash of the West Indies Cricket Board (WICB) Regional four-day competition at the famous Georgetown Cricket Club (GCC) ground from today.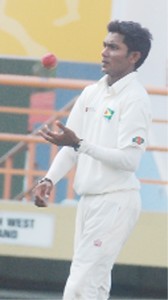 But they will have to do so without the services of their leading wicket-taker in right arm leg spinner Devendra Bishoo (injured  tendon in right shoulder) and Esaun and Royston Crandon with a sore shoulder and a cold respectively.
When they last met at the Three W's Oval, Cave Hill, Barbados, CCC triumphed by 96 runs, thanks to a man-of-the match innings from Nikolai Parris that was the second of what turned out to be four consecutive defeats for Guyana, who then secured two draws against Jamaica and Trinidad and Tobago respectively in their next two encounters under new coach Rabindranauth Seeram.
Many thought the redemption path had begun, but lo and behold, Guyana succumbed to the Windward Islands by 160 runs and player/coach of the CCC team, former Barbados and West Indies middle order batsman Floyd Reifer told Stabroek Sport that his team will be looking to maintain their dominance this year against their host.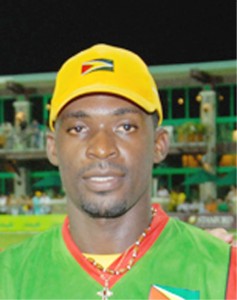 "We are here in Guyana to play some good and positive cricket. Having defeated them in the last round, we will be looking to dominate them and come out victorious again even though we are playing in different conditions."
The 36-year-old Reifer who is in his first stint as player/coach of the university students is calling on his charges to be consistent in all areas of the game, with special emphasis being placed on their batting which has fallen away recently.
"We are a new team in this competition and having demonstrated in previous games and for a period of time the killing instinct we possessed, we do need to be consistent in all areas of the game if we are to be a force to reckon with, but most importantly, we need to be consistent in our batting."
Among the students the batting will be led by Reifer, who along with Parris, skipper Simon Jackson and wicket keeper Chadwick Walton, are the lone batsmen to top the 200 mark for their team, with Reifer on 414, leading Parris who is in second place  by 29 runs.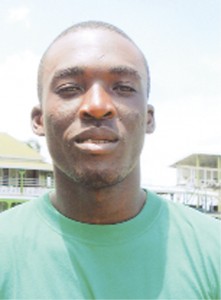 Added batting support can be expected from Barbados under-19 skipper Kyle Corbin, Omar Phillips and all rounder Jermaine Robinson.
The bowling rests on the shoulders of fast bowlers Robinson, Kevin Mc Lean, Kishmar Catlin, Gilford Moore, Borris Hutchinson with spinners Kavesh Kantasingh, Ryan Austin and Jamal Smith all being capable of adding support with the ball for their team.
Opener Shemroy Barrington who started his career at this level with 32 against Windward Islands in the first round innings defeat, gets a recall, while Assad Fudadin, Steven Jacobs and Brandon Bess who did not play against the Windward Islands, have the opportunity to force themselves into the final eleven.
There is also the talented Gajanand Singh who was once arguably the best youth batsman in the country, but apart from his two games last year against Jamaica and the Windward Islands, the talented 21-year-old right hander has not been given a chance in this year's tournament.
Skipper Travis Dowlin will be hoping that both his batsmen led by the West Indies trio in opener Sewnarine Chattergoon, Leon Johnson and leading run scorer Narsingh Deonarine along with the bowling led by Bess, Trevon Garraway, Christopher Barnwell and Veerasammy Permaul, can turn back the challenge of the CCC.
Wicketkeeper Darwin Christian has scored 271 runs, which also  includes his maiden first class century, but he still has six ducks, the most in the tournament to date and with the present chopping and changing being done by the selectors, could lose his place before the 12 rounds are over, as Barrington can be useful behind the stumps also.
With one point separating the two teams, CCC 15 to Guyana's 14, there is much to play for in this contest which runs for the next four days beginning from 10:00hrs today.
Team Guyana from: Travis Dowlin (Captain), Sewnarine Chattergoon, Shemroy Barrington, Christopher Barnwell, Narsingh Deonarine, Leon Johnson, Assad Fudadin, Gajanand Singh, Steven Jacobs, Darwin Christian, Veerasammy Permaul, Brandon Bess and Trevon Garraway.
CCC from: Simon Jackson (Captain), Kyle Corbin, Omar Phillips, Chadwick Walton, Jamal Smith, Floyd Reifer, Kevin Mc Lean, Kavesh Kantasingh, Borris Hutchinson, Kishmar Catlin, Nikolai Parris, Jermaine Robinson, Ryan Austin and Gilford Moore.
Around the Web