President of the Guyana Football Federation Colin Klass said that the long-awaited FIFA goal project will officially be brought to light on April 25 when world governing body FIFA holds their Annual General Meeting (AGM) in Zurich, Switzerland.
The goal project will include a national technical centre with a playing field, stands, dressing rooms and accommodation and  will enable the GFF to offer adequate training conditions to its national teams at all levels. This is estimated to cost approximately US$400,000.
Klass made the disclosure at a press conference held yesterday to update the media on matters arising from the Caribbean Football Union (CFU) Congress in Trinidad and Tobago last weekend.
Klass said that at present   hey are awaiting the signed contractor's contract from their architectural consultant Rowel Jordon of Rowel Jordon Associates. This is expected to be ready by April 6 and it will be forwarded to FIFA by April 15.
The signing of the FIFA gold project will see the GFF breathing a sigh of relief after years of struggle to acquire a plot of land in an appropriate area. However the GFF has been given a plot of land at Orangestein, East Bank Essequibo by  Alami Binani. Klass said Guyana's football fraternity will be indebted to Binani since his intervention was crucial.
The GFF president who is also the vice-president of the CFU said that initially the FIFA meeting in Zurich was supposed to be held in February but the world governing body for football extended the time to allow its member associations to catch up with the requirements of the goal project.
Klass said also that FIFA told the affiliated member associations from the Caribbean to get themselves in order by April 25 or they would  be eliminated from the likelihood of a goal project.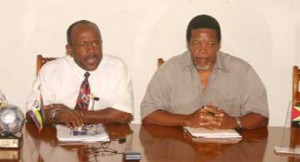 When asked if Guyana would be  fully ready and prepared,  Klass said: "I am certain that we will have our documents in order way before April 25. All the other documents are with FIFA already so our feet are one in and one out, but as soon as we get the contactor's contract we will be fully in."
Around the Web