Master Frank Woon-A-Tai, an 8th dan black belt karateka of the International Shotokan Karate Federation (ISKF), conducted a grading examination last Sunday at the Young Men's Christian Association (YMCA) dojo, where all the students were successful.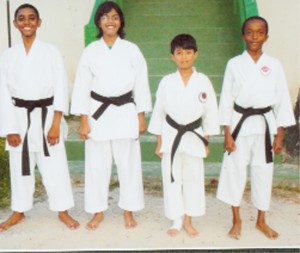 According to a press release, four brown belt students namely Shaquille Sobers, Yogini Maharaj, Michael Phang and Joshua Broomes were promoted to first dan (black belt), while eight others jumped from 8kyu (yellow belt) to 6 kyu (green belt).
Andrew and Mark Phang also skipped from 6 kyu (green belt) to 5 kyu (purple belt) while Jessica Azeez skipped from 5 kyu (purple belt) to 3 kyu (brown belt).
Overall, 67 students took the grading examinations in front of Master Woon-A- Tai, who later took the opportunity to congratulate and present the certificates to them.
Meanwhile, persons who are interested in learning karate can contact Amir Khouri at the YMCA or Clinton Moriah at Trinity Primary School in New Amsterdam, Berbice.
Around the Web