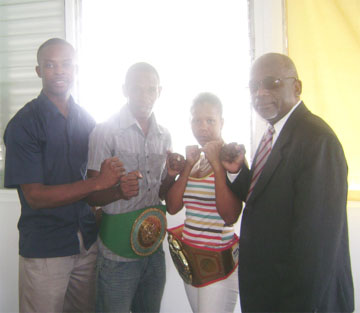 World Boxing Council (WBC) Caribbean Boxing Federation (CABOFE) champion Leon 'Hurry-Up' Moore and WIBA Iberian-American bantamweight champion Shondel 'Mystery Lady' Alfred have both inked their respective contracts for the September 26 title fights which will be staged at the Cliff Anderson Sports Hall.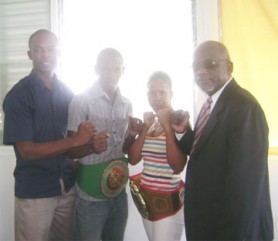 Alfred would be the main attraction as she faces Canadian Corinne Van Ryck De Groot for the vacant Women's International Boxing Association (WIBA) bantamweight title, while Moore would be the main supporting bout against Colombian Mauricio Pastrana over 12 rounds for the vacant North American Boxing Association (NABA) Bantamweight title.
Alfred, who will be fighting for a world title for the first time, said that she is extremely happy and even more grateful since she will be fighting on her home turf.
"This is something that I have wanted for a long time now and I'm very happy that I got it. I just want everyone to support me and I will win," said Alfred.
But the fight would be a win-win situation for Guyana to have the next female world champion, since according to President of the Guyana Boxing Board of Control (GBBC) Peter Abdool,  De Groot who is of Guyanese parentage would be fighting under the Golden Arrowhead.
"Anyway the fight goes, Guyana will win," said Abdool, adding that he is extremely happy that De Groot chose to fight under the Guyana flag. He noted too that both fighters are just as aggressive.
"Corinne brings a lot of work, she is a very talented and physical fighter and so is Shondel, so it would be a good fight. I'm happy that she chose to find her roots and fight for us and all I can say is that it would be a boxer's fight," Abdool added.
Meanwhile for the WBC number 7 rated Moore the fight is seen as a step closer to a world title as he would ever get since a win over the Colombian would place him among the top five bantamweight boxers in the world.
And while Moore would be fighting for the NABA title, the WBC International belt would also be on the line.
"Well everybody knows me so there isn't much for me to say other than thanks to the GBBC and the promoters for giving me this opportunity to fight for this title," said the soft spoken Moore.
Promoters Carwyn Holland of Holland's Entertainment and Stanford Solomon; S and S Promotions, have both acknowledged that the fight would cost them in excess of $10 million and so government and corporate support is pivotal for success.
Holland is acknowledged as the first person to have staged a  world title fight in Guyana when Gwendolyn 'Stealth Bomber' O'Neil defeated Kathy Rivers for the WIBA Light Heavyweight title to become Guyana's first female world champion in 2004.
Holland said that in 2004, it cost him approximately $11 million and though it is a bit cheaper this year, he would also like to thank both De Groot and Pastrana for fighting under the radar as it relates to the purses that they would normally be paid.
For Solomon, who in recent months has been seen as the saviour for professional boxing in Guyana, it would be his first venture at the international level, but the well-known businessman said that he is prepared to throw his weight behind the fight because of the importance it holds for boxing.
Abdool said that in 2004, a commitment was made by President Jagdeo that once a world title comes to Guyana, the government would be fully supportive and therefore he expects the administration's fullest cooperation.
However he said that the usual sponsors for professional boxing in Guyana, Courts Guyana inc., Banks DIH and GT&T just to name a few, have all expressed their enthusiasm to come on board in helping to  sponsor the fight.
Around the Web