Shondell Alfred won a world title, Leon `Hurry Up' Moore won three.
A packed Cliff Anderson Sports Hall on Saturday night saw American Gladiator Corinne De Groot failing to solve the mystery her opponent Alfred presented losing a unanimous decision in their World International Boxing Association (WIBA) bantamweight title fight.
Moore on the other hand had few problems in getting a unanimous decision over Colombian Mauricio Pastrana to lift the NABA; WBC Continental of Americas; and WBA Fedelatin and Fedecaribe super bantamweight titles.
But the most telling performance of the night came from Howard `Battersea Bomber' Eastman who knocked out Trinidad's Kevin Placide in the 10th round with the Trinidadian regaining consciousness some 10 minutes afterwards.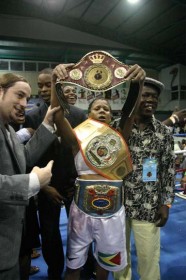 In the main bout, Alfred entered the ring at 114 pounds, three pounds lighter than De Groot.
But what the `Mystery Lady' lacked in height and size, she made up for with courage.
From the sound of the bell to signal the start of the first round it was all Alfred.
The packed venue saw Alfred being the aggressor but, like a true panther, De Groot was able to evade most of the punches with her cat like reflexes.
She, however, failed to counter attack.
Alfred, the national female bantamweight champion threw a lot more punches taking the first round with some on the button short jabs.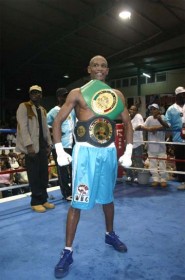 In the second round, De Groot was put on the canvas after one minute, 13 seconds with a hard right and pandemonium broke out  with the Golden Arrowhead being waved by the fans.
But the fight was not over, in fact, it was just starting and even as Alfred was seen casually celebrating De Groot sprang to her feet just as referee Eion Jardine was issuing the standard eight count.
The fight turned in the eight round when De Groot finally found her rhythm.
A solid left uppercut, followed by an overhead right, visibly hurt Alfred as she staggered across the ring but when she finally sought respite on the canvas Jardine ruled it a slip.
`The Panther' continued to prey on Alfred and sent her to the floor twice in the ninth round. On both occasions Jardine ruled them slips.
Alfred did go down once again in the 10th and final round but by then it was too late.
Judge Ian Alves scored the fight 99-90, Lionel Sullivan 97-90 and Trevor Arno 96-92 all in favour of Alfred who became Guyana's seventh world champion, following Andrew Lewis, Vivian Harris, Wayne Braithwaite, Pamela London, Gwendolyn O Neil and Gairy St Clair.
After the fight, Alfred said: "I know I would have done it…first of all she's old, she's 40, I'm 27, I have youth, strength and everything. I told you before the fight that she is an American Gladiator but I'm a Guyanese fighter. I dedicate this to my son, my family and all my supporters…I have worked hard for this fight and it has paid off, so now I hope I get more fights so I can represent my country well."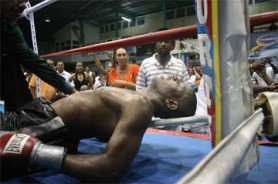 The new WIBA bantamweight champion said that she was never hurt in the fight but confessed it was challenging since De Groot was a sturdy opponent. Alfred has now improved her record to 11 wins from 16 fights while De Groot suffered her first defeat in 12 fights.
Meanwhile, Moore tactically boxed his way past Pastrana and took one step closer to realizing his dream of becoming a world champion. Moore didn't knock Pastrana out but he punished him every minute of the 12-round encounter with his razor sharp left hand jabs and body shots.
Judge Bernard De Santos scored the fight 119-109; Francis Abraham 120-109 and Clairmonte De Souza 119-109; all for the WBC number six ranked Moore.
Moore's record has now improved to 25 wins from 27 fights while for Pastrana; it was second defeat in his last two fights. His record now stands at 35 wins and 12 losses from 45 fights.
"He out boxed me fair and square," Pastrana said after the fight.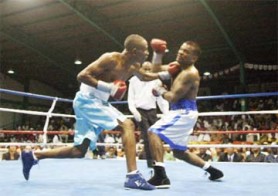 He added that he was never really troubled in the fight and admitted that Moore was a bit too much for him.
Also gaining a unanimous win was national middleweight champion Eastman who battered and bombed Trinidadian Kevin Placide for 10 rounds before he literally put his lights out at two minutes 19 seconds of the final round.
Eastman sent Placide through the ropes and referee Jardine helped the dazed looking fighter to his feet and sent him to his corner. Many of those at ringside called on the referee to halt the fight but he said "fight on" after sending Placide to his corner.
Eastman, the former European, Commonwealth and British champion, after realizing that Placide was hurt, landed a hard right to the head of the Trinidadian and he sprawled in the corner of the ring.
Placide lay in the ring for approximately 10 minutes as his corner and the ringside doctor tried to revive him.
"Guyana, I'm ok now" Placide said on the microphone after getting up, still looking dazed and with eyes glassy.
In the other supporting bouts, Shawn Pile knocked out Paul Lewis Jr. at two minutes 30 seconds in the first of their six-round clash while Dexter Marques rebounded from a first round knockdown to gain a unanimous decision over Hewley Roberts.
Around the Web