Brian Thompson created two of the biggest upset of the 10-round National Chess Qualification tournament over the weekend at the Kei-Shars Sports Club on Hadfield Street.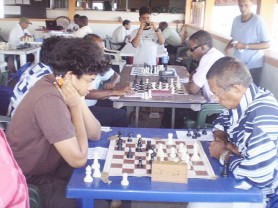 Thompson first defeated Loris Nathoo in their fifth round clash before turning his weapons onto Errol Tiwari in the seventh round handing the veteran player another defeat.
Favourite Wendell Meusa leads the senior category with six points with Thompson in second place on five and one half.
Three players, Learie Webster, Taffin Khan and Tiwari are on five points each while Nathoo, Omar Shariff, Ronuel Greenidge and Irshad Mohamed are on four-and-a-half points.
Michael Perreira and Chino Chung are on four points each while David Khan and Shiv Nandalall are on three-and-a-half points.
One of the early leaders Taffin Khan suffered two losses on Sunday.
Veteran player Tiwari used all of his experience to secure the win against Khan in a sixth round encounter while in the following round Khan lost to Meusa.
In the junior category, Sham Khan remains the only undefeated player in the junior category with five wins and two draws for a total of six points.
Khan handed Saeed Ali his only loss in their top of the table sixth round clash.
In other matches,  Crystal Khan defeated Rashad Hussain, Raan Motilall defeated Stanley Ming Jr.,  and Khalid Gajraj got the better of Cecil Cox. The  points standing after seven rounds reads: Khan six, Saeed Ali on five-and-a-half, Raan Motilall, Kana Khan, Rashad Hussain, Crystal Khan and Stanley Ming Jr. five points each,  Aslam Hussain on four-and-a-half points, while Khalid Gajraj, Keron Simon,  Sheriffa Ali, Carlos Petterson and Mandy Ramnarine are on four points.
The tournament will wrap up this weekend when the seniors will play round eight on Saturday at 1630 hours and round nine and ten on Sunday starting from 12 noon.  The juniors will play the remaining three round this Sunday from 1030 hours.
Around the Web