In two weeks, ten young ladies will vie for this year's Miss Bartica Regatta crown and according to the organizers, patrons can expect good clean competition in a relaxed and secure atmosphere.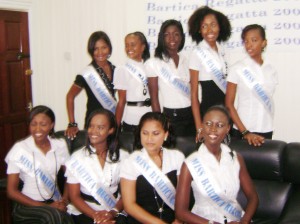 The pageant slated for April 12 is only one of the activities that highlight the Bartica Regatta every year. This year, the event has been stretched into a three-day affair.
On Thursday the excited contestants paid a courtesy call on Tourism Minister Manniram Prashad at his South Road office. Anique Misir, Jackey Hanover, Milcah Lynch, Samantha Cox, Candia Paul, Sophia Simons, Savannah'Ree Wyatt, Simone Hackett, Bolissa Douglas and Kenwah Cho Quan Yi, are all confident that they have what it takes to win the hearts of the judges.
They have just about two weeks left to put the final touches in place. They are constantly in training in public speaking, building confidence and other carefully selected areas and rehearsals are being conducted both in Georgetown and Bartica.
On pageant night the young ladies will be participating in swimsuit, evening gown and talent segments as well as a question and answer session on their respective platforms. There will also be a final question.
Prashad expressed joy at once again being associated with the pageant which is something that persons attending the regatta look forward to and pledged his continued support.
He announced that the ministry will be providing the top three prizes of a lap top computer, a trip to Kaieteur Falls and a trip to Arrow Point as well as $100,000 which will be given to the organizers.
Prashad said that all the girls are beautiful and he wished them well in their quest for the crown and title. "The fact that you are in this pageant shows that you are brave. You are tourism entrepreneurs," he said, before announcing that the ministry will be incorporating each delegate into tourism based events after the pageant has ended.
The regatta
Regional Chairman Holbert Knights, the coordinator of the regatta was praised by the minister for his hard work over the years to bring the event to what it is today.
Prashad said that last year some 10,000 persons inclusive of overseas-based Guyanese and Barticians who live outside the community, were in attendance. A bigger crowd is expected this year.
Yachts were evident last year and according to Prashad he understands that some have already arrived, another good sign that tourists are very interested.
Meanwhile, Knights said that everything is in place to entertain and accommodate those who plan to flock the riverain community during the three days.
He pointed out that while all the hotels have been booked already, several Barticians are offering bed and breakfast arrangements. He said that contact information for these persons will be available at the hotels.
This year the water racing events has been increased from nine to more than twenty. Knights said that jet skiing and canoe racing are two new categories added to this year's list of events.
Police have also said that there would be adequate security in place both at the pageant and the regatta itself.
Around the Web