Tastes Like Home
Hi Everyone,
I haven't made or eaten chicken salad in ages. It's one of those things that I like but it never occurs to me to make it until someone suggests it or asks a question about it. So a few weeks ago when a regular reader asked me for a recipe for chicken salad I found myself suddenly craving the dish.
Growing up, a chicken and potato salad combo used to make a regular appearance on our table whenever my mom would entertain. Given that my sister and I were her little helpers, we used to look forward to shredding the cooked chicken because we got to make a nice pile of the bones to be enjoyed all by ourselves later. That was the reason I grew to love chicken salad, for the bones to munch on!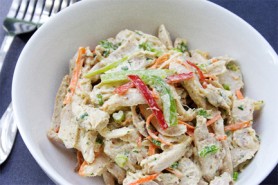 Over the years I've made quite a few chicken salads. I've rarely made the combo variety like my mom did for I felt that if I am eating chicken salad, then I'm eating chicken salad. I've experimented with various cooking methods as well as various parts of the chicken all in a quest to find the most effective way for the chicken to remain moist and flavourful.
I tried the boiling method which my mom used. However, I felt that that left all the flavour of the chicken in the broth. Roasting was a nice idea but I found that once cooked, only the breast of the chicken seemed appealing enough to be made into a salad. Added to that, the breast is my least favourite part of the chicken. Steaming is excellent but I prefer poaching because I can subtly flavour the chicken by the ingredients added to the poaching liquid. The chicken remains moist and full of flavour and I've come to prefer the meat of the leg quarter – drumstick and thigh for making chicken salad. I prefer this part of the chicken because it is among the most flavourful part of a chicken; the skin around this area encases the meat helping to keep it moist.
To poach my leg quarters I add onions, carrots, celery, fennel seeds, whole black pepper corns, a bay leaf, and a few sprigs of fresh thyme to a pot along with water, cover and bring to a boil. Once it comes to a boil salt is added salt to taste and the heat reduced to simmer. The chicken is then added and left to poach on low heat for about 30 minutes or until liquid from the thigh runs clear when a knife is inserted. Leave the chicken to cool in the poaching liquid.
When you remove the chicken to start shredding it, be sure to save the liquid as stock for cooking.
Apart from the chicken itself, I don't like to put too many other ingredients into the salad. Finely julienned carrots some strips of red and green bell peppers for colour and texture along with finely chopped parsley and sliced green onions (white and green parts) round out my ingredients.
While I like celery, I don't put it into the salad as not everyone eats it, the same goes for walnuts and grapes but they are excellent additions that you can experiment with. The main thing is not to add too many other ingredients that they become more than the main ingredient, which in this case, is the chicken.
One of the main reasons I rarely eat chicken or potato salads outside of my home or the confines of friends' homes is because of the dressing. Often there is too much dressing, the ingredients have been smothered to death and it's a mystery trying to figure out what lies beneath and between the masses of cream you see in the bowl. For my part, I like the dressing to be just enough to coat the ingredients and impart flavour. I want to see and taste what I'm eating. To that end I use whole mayonnaise, sour cream or Greek yogurt, grainy Dijon mustard, a pinch of salt and black pepper and a squirt of lemon juice to brighten the dish.
Many people think of chicken salad as a leftover dish. In other words, something to be made from leftover cooked chicken, and it is an exceptionally good leftover dish. I, on the other hand, always make it purposefully. I set out to make chicken salad as a meal. I eat it just as is and sometimes with mixed green lettuce.
Cynthia
tasteslikehome@gmail.com
www.tasteslikehome.org
Chicken Salad
Ingredients
2 cups shredded chicken
½ carrot finely julienned
¼ bell pepper sliced thinly (combo of red and green)
1 teaspoon minced parsley
3 tablespoons sliced green onions (green and white
parts)
Dressing
2 tablespoons full-fat mayonnaise
1 tablespoon Greek yogurt or sour cream
1 heaping teaspoon grainy mustard
¼ teaspoon salt (or more to taste)
Freshly ground black pepper to taste
1 teaspoon fresh lemon juice
Equipment
1 medium bowl
1 rubber spatula
Plastic wrap or aluminium foil
Method
1.  Add all the ingredients for the dressing to the bowl and mix thoroughly.
2.  Add chicken to the bowl and toss with dressing.
3.  Add carrots, peppers, parsley and green onions and toss to mix.
4.  Cover bowl with plastic wrap or aluminium foil and chill until ready to serve (Chicken salad should always be served cold. If serving in a buffet, place bowl with salad into another bowl with ice to keep cool)
Comments

GEMS Theatre Productions presents a new half an hour sitcom "Days Like Dese," a family-oriented comedy that surrounds the Rupauls, a middle-class Guyanese family.

Just three weeks short of the staging of the Miss Guyana Renaissance pageant, twelve ladies are kept busy perfecting dance routines, walk and speeches.

Twenty-year-old Keisha Brazh under the African name 'Serwah Mawusia,' is representing Ghana.

Put to task at the age of just ten to help to create the family's Christmas cake propelled Rabina Shivraj into a world of baking and decoration and today she has learnt the art of hooking her customers, first with her creativity and secondly with the taste of her creations.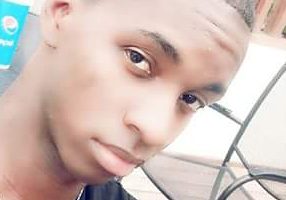 By Joanna Dhanraj With August fast approaching, the contestants of the Mr and Miss Guyana African Roots 2017 pageant are busy perfecting their skills for their big nights.