Hank and Navini Omar symbolize a fast-growing generation of younger Guyanese who are pursuing conventional academic studies but keeping an eye on entrepreneurial opportunities as an option to salaried employment. Times have changed and the pursuit of a career in the public service is not what it once was. On the other hand there are niches in the business sector that remain to be filled.
Married less than year ago, both are graduates of the University of Guyana, he in Computer Science, she in Mass Communications and International Relations. Up until now Hank remains a part-time businessman having chosen to retain his job at the Ministry of Finance, Navini is entirely focused on building the fledgling enterprise which they have established along with two other family members, her mother and aunt.
The Coffee Bean is a charming little café cum restaurant with an ambience that is intimate and welcoming. Opened less than a month ago, on November 27,  it clearly seeks to create a style and standard of its own rather than to simply mimic already existing eating houses. Situated on Church Street, South Cummingsburg, just two doors west of Clairan's Boutique, it exudes a simple stylishness. A handful of dining chairs and tables accompany a suite of living room sofas. The Omars are seeking to offer high quality dining in a leisurely environment.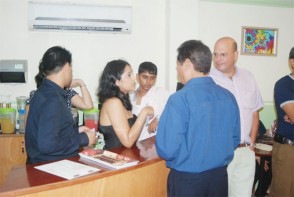 Hank and Navini were married in August and the Coffee Bean can probably best be described as their wedding present to themselves. It had been planned over a considerable period of time, the final outcome being the result of a combination of ideas culled from various places they had visited in the Caribbean and North America. "It's a little bit of everything," Navini says.
If the elaborate menu on offer is anything to go by, the Coffee Bean is banking on patronage based on its own performance. The Omars seek to pamper their patrons with a combination of exotic snack menus ranging from burgers and bagels to stylish wraps, chicken, tofu and turkey among others. On the simpler side the Coffee Bean offers cupcakes, éclairs and Chinese puffs, adding rare mundane dimension to a menu which, Navini says, "changes every day."  Drinks too, seek to spoil patrons for choice. Diners can enjoy a variety of expressos, steamers, local and Italian sodas, hot or iced chocolate drinks and eggnogs and at the end of the meal one of several cheesecakes attractively displayed inside a small cooler in the dining area. There are seasonal drinks too, a variety of them itemized on Santa's Naughty/ Nice List. Unquestionably, the Coffee Bean is striving offer a unique dining experience. Exotic food and drink aside the Coffee Bean offers its patrons free Wi Fi and desk top points to allow for customers who may be inclined to get work done some place apart from the office.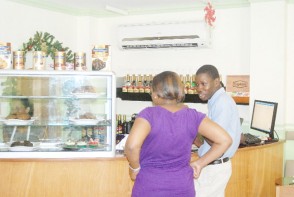 As of last Sunday the Coffee Bean has added a Sunday lunch to its weekday breakfast and lunch offerings and Navini has been contemplating even greater variety to what currently exists; like special meals to take account of national occasions.
Designated the face of the Coffee Bean Navini talks eagerly about her plans to ensure that the establishment "makes a difference", that it contributes to raising 'dining out' standards which she believes still has some way to go. Growth is definitely on the cards but consolidation is the immediate priority. The Omars are perceptive enough to recognize that creating a niche in a market where culinary preferences are often less than adventurous can sometimes be a formidable challenge.
Her boast that the Coffee Bean is in business for the long haul is a reflection of her confidence in what she believes remains a good market for good food.
Around the Web