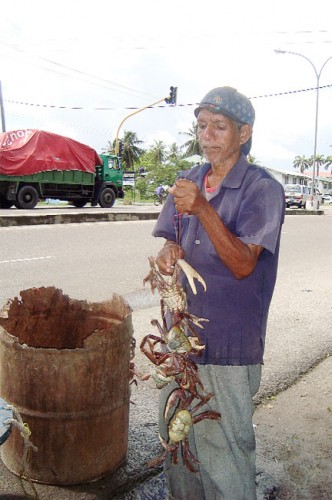 After difficulties with farming made it unprofitable, Bharrat (only name given) and his friend Desmond Sookram decided to become crab vendors in order to make a living.
The two men who are in their fifties sell on the Rupert Craig Highway in the vicinity of Ogle, where they have crabs of all sizes on sale daily. With the live crustaceans stored in containers, they sit by the roadside and patiently wait for interested persons to stop.
Bharrat, the more vocal of two, related that he used to plant calaloo, pak choy and other vegetables at his home but the rain would usually ruin his efforts. With his effort to provide for his family being thwarted, he knew he had to find another way of earning an income. "I used to love farming but when the rain fall it does hambug the crops… they does dead out," he said.
He knew of a man from Corentyne who would usually sell crabs to persons in Georgetown, and entered into an agreement with him. The crabs, which Bharrat and Sookram sell, journey to the city by car from Canje where they are caught by residents, who in turn sell them to Bharrat's agent.
"Some day it rough, some day it good," he said while indicating that his best customers are foreigners. Depending on the size, one can get six big crabs or ten small one for $1,000.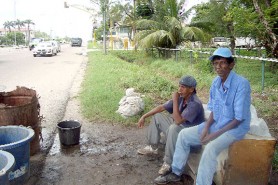 "It's a reasonable job," Bharrat declares, his only problem being that it is seasonal. In the off-season, he plans to try his best with farming, though he lacks much optimism about it. "With this at least you can earn something daily but with farming all your work can go down the drain quickly," he explains.
The men begin their business day at 6 am and stay until 4 pm. The difficulty obtaining transportation to journey to Coldingen where Bharrat lives, forces them to leave early. At the end of the day, they pick out the dead crabs and dispose of them. The rest of the live crustaceans are stored for the next day. "You does carry nuff losses, but there are days when you can make up to $15,000."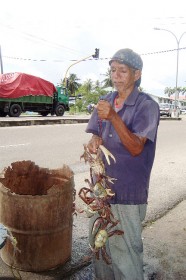 It is literally 'crabs in a barrel' as the crustaceans move about; they are occasionally soaked with water to ensure that the sun does not dry them out. Under the shade of a huge tree, Bharrat and Desmond sit on an old fridge keeping each other's company as they wait for the next vehicle to stop. (Candace Phillips)
Comments
Since the festival of Christmas commands a pre-eminent position – of observance and celebration – on Guyana's Annual Calendar of National Events, I thought I'd pen a few lines to provoke thought and meditation relevant to the "Real Reason for the Season".

To mark the anniversary of Martin Carter's passing on December 13, 1997, Gemma Robinson looks at Carter's Poems of Succession, published 40 years ago this year.
By Naicelis Rozema-Elkins It is about time, past due in fact, that the problem of sexual assault by teachers in our school system is addressed.

Focus on Guyana's National Budget 2018 represents the twenty-eighth edition of this Ram & McRae annual publication which highlights, reviews and comments on the major issues surrounding and raised in the National Budget.

By Mark Leonard LONDON – Over the last few weeks, media around the world have been saturated with stories about how technology is destroying politics.