Wallace Murray has been making tombstones for over 20 years. It's a job he took up following his retirement as a sexton with City Hall back in 1985.
Now 80 years old, Murray's little business can be found at 57 Louisa Row, Werk-en-Rust near the entrance to Le Repentir cemetery.
Murray, relaxing in a chair that overlooked the tombstones he has on display says that he took to tombstone making to complement the pension he was receiving, "After they retire me I had to do something to make a living."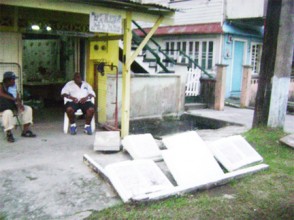 Murray said he worked with the city council first as overseer of Georgetown and later as sexton. He served in the latter position for 30 years before his eventual retirement in 1985.
"I used to prepare the journal of deaths which occurred during my regime, the spot they were buried, the number, their names, things like that," he recalled.  "It's an arduous task; you have to deh pun the books all the time."
However, Murray said that he enjoyed working as a sexton and noted how important it was, since it allowed persons to find their loved ones. "I had a love for doing the job. I used to try and do the job as accurately as I can."
It was this attention to detail that he took into the making of tombstones, something he "enjoy making to a point." While he admits that the tedious job brings in little profit, it nonetheless "assist me because the pension is not much."
Its takes about three days to make a tombstone depending on its design, Murray says. He even does the engraving, and his location could not have been better.
Although he is still in the business, Murray now has an assistant making the tombstones since he is having difficulty with his eyes.
You can find Murray relaxing in the afternoons at his Louisa Row location, chatting with those around, and if the current state of the cemetery comes up in the discussion, Murray will not hesitate to share his view: "In my days the cemetery was immaculate now it gone to naught."
Around the Web