The Guyana Missionary Baptist Church (GMBC-Lott-Carey) is
currently celebrating the fiftieth anniversary of its founding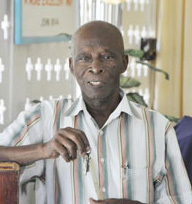 The Guyana Missionary Baptist Church (GMBC Lott-Carey) is a Christian denomination that answered the call to Christian service more than fifty years ago. The mission of the Guyana Missionary Baptist Church is to faithfully fulfill God's commission to the church through worship, evangelism, Christian formation ands mission outreach.
The GMBC Lott-Carey was founded by the Reverend Dr. Allen Carlyle Miller, a Guyanese American who was trained as a physician (Meharry Medical College) and Minister of the Gospel (Virginia Union Seminary) in the Southern region of the United States of America. As soon as circumstances allowed he returned to his native home, Guyana, to answer his call to medical ministry and to keep a promise to his mother that he would not forget his people. Dr. Miller became a part of the Congregational Church Ithe denomination of his childhood) and serverd many churches in the congregational union for several years, contributing significant personal resources to building new churches and renovating old ones. However, because of his Baptist formation in the USA he and the Congregational Church parted ways because they could not agree on the issue of baptism by immersion.
In the early 1950s, under the advisement of Dr. Miller (prior to his departure from the congregational union) Sister Erma Mackenzie led a church planting team into Campbelville, a newly developing community in Georgetown and started a Sunday School in Criag street at Mr. Daniels' bottom house. The Sunday School grew rapidly and soon outgrew the bottom house. They then moved to the Campbelville Government School in Sheriff street. While at the Government school the group hosted several street revivals and many adults came to Christ thus forming the adult mewmbership of this church plant.
In 1960 Rev. Gift Profitt led a walk out of the Bethel Congregational Church in Triumph on the East Coast of Demerara because they could no longer agree to work together. The group that left Bethel formed a new church plant and called the Reverend Dr. Miller to be their pastor. The church plant met in a tent and organized themselves into the Calvary Baptist Church. On October 16, 1960, Calvary entered its first permanent building.
On May 11, 1962, the church plant in Campbelville was organized into a church and they became the Mount Zion Baptist Church. On Sunday May 13, 1962, this congregation marched from the Campbelville Government school to the new church building and clinic that was situated at 157 Fifth street Bleigesicht. Dr. Miller and his new wife, Erma Mackenzie-Miller provided the resources for this new building and they built it on their personal property. The portion of land was since donated to the church.
In the early 1970's Dr. and Mrs. Miller (trained nurse0 answered God's call to Linden/Soesdyke highway for medical missions. They traveled weekly to various communities rendering medical services to people under trees. When the Ministry of Health heasrd about this they offered land to Dr. Miller at Long Creek. Dr. Miller built a log cabin non the land and served the people from there. But because Dr. Miller was convinced that rhe people needed spiritual healing as well they established a church in Long Creek in 1973. The Long Creek Baptist Church entered into its first permanent building on June 21, 1977.At Long Creek Dr. Miller also established Camp Sommerville (1973) the A. Carlyle Miller Cottahe Hospital and Health Centre (1977), Longt Creek Farming Project, Bob's Shop (community groceries) and the Lonnie A. Simin School Feeding Centre. (1979)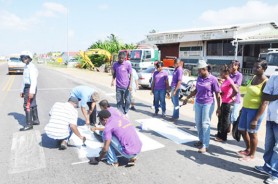 In 1974 the GMBC expanded its ministry to Kuru Kururu, New Town and planted a church there. This church was named the M.L Wilson Baptist Church in honor of in honor of the Rev. Dr. Mannie l. Wilson, former pastor (Convent Avenue Baptist Church, Harlem, NY) and friend and ministry ally of the Millers. The M.L. Wilson church building was first decicated on June 30, 1974.
In 1979 Dr. Miller accxomplished his goal of facilitating a formal relationship between GMBC and the lott-Carey Baptist Foreign Mission Convention, USA. Since then Lott Carey has been GMBVC's primary funding partner. On January 8, 1979, Dr, Miller answered God's call to eternal rest.
On January 15, 1979, Lott-Carey and the GMBC Board unanimously called Rev. Erma Miller to lead GMBC. Under her leadership we expanded the Wendel P. Sommerville Camp, planted Yarrowcabra Baptisat Church ((1989) She also led expansion of projects in all GMBC congregations which included newe church buildings at Long Creek, Calvary and Mount Zion. Rev. Erma Miller also played a significant role in developing GMBC leadership capacity. She facilitated this by providing scholarships for clergy and lay leaders training. Consequently, under her leadership GMBC moved from being a circuit of churches with one pastor to a network of congregations with multiple trained trained clergy leaders.
In 1986 she married Rev. Clarence Williams wo joined the GMBC leadership teaqm. Rev. Erma Miller-Williams played a significant role in expanding GMBC international relations. For example, in 2007 GMBC hosted Lott-Carey's Third Triennial Mission Leaders Conference. Furthermore, we now host annual Lott-Carey Medical Missions. Youth and Pastoral Excellence teams.
Around the Web