Several homes on the West Coast of Demerara were last evening under water as residents of villages between Den Amstel and Uitvlugt close to the seawall felt the effects of a towering spring tide which is expected to continue until tomorrow.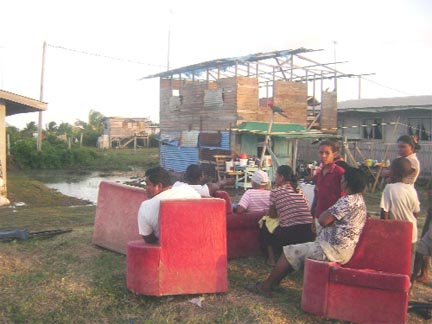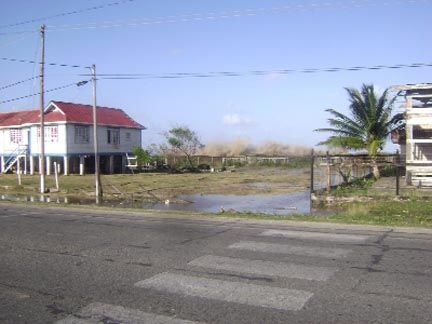 Water flooded several yards in villages located close to the seawall   and residents at Stewartville Sea View told this newspaper yesterday that they were up since around 2 am yesterday as the sound of the waves pounding against the sea wall had them on edge. With several pieces of furniture packed on high ground in their yards, the residents related that huge waves overtopped the sea wall nearby and flooded their yards shortly after 2:30 pm yesterday, an ordeal which occurred the previous day around the same time. They were peeved that since 2006, when their yards were flooded after a spring tide overtopped the seawall in the area, no proper drainage system was put in place.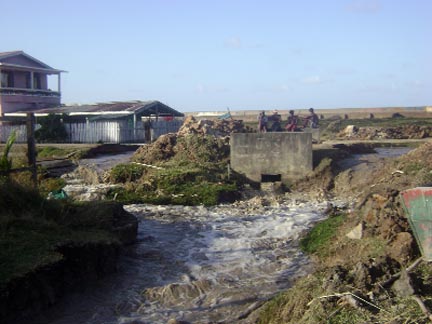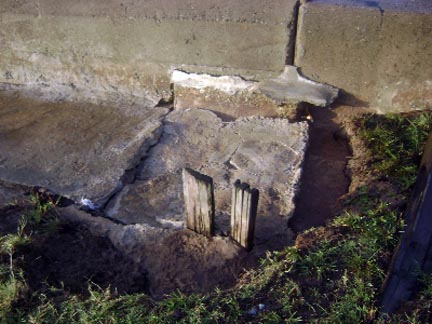 Along the seawall, close to the area in question, a huge crack, which was previously patched, was undermined as water spewed from under the affected area. Several fences lay on the ground in front of a few yards, one resident noting that he and his family will be relocating temporarily from the area until the situation subsides this weekend.
Over at Anna Catherina, a few yards were under water around 5 pm yesterday as huge waves crashed into the sea defence nearby. A few roads in the village were cut in half to allow water to escape the flooded yards and enter the nearby canals as officials from the Shore Zone Management Unit of the Public Works Ministry assessed the situation. According to a resident, while the occurrence is natural, there was need for the canals in the area to be cleaned since he noted, the water which accumulated in several yards would have drained off easily. That area felt the brunt of the spring tide yesterday as was the case on the previous day and residents from nearby villages gathered in the area in large numbers to get a glimpse of the situation. An elderly man from the village told Stabroek News that the area in front of the sea wall was deep, noting that this is what has been causing the water to easily overtop the sea defence.
Residents along the East Coast of Demerara told   Stabroek News yesterday that there was mild overtopping of the sea defence in that area and according to a fisherman at Better Hope, the spring tide appears to be subsiding.
According to the Ministry of Agriculture, the spring tide will be active until January 6, 2010 and is being monitored, with vulnerable areas along the coastland being closely watched. The  agency's hotline numbers remain open, those numbers are 225-5049, 223-7291 and the agency can be contacted via text messaging on 691-0000.
Around the Web