After sustaining about 7 gunshot wounds an Alberttown man was pronounced dead on arrival at the Georgetown Public Hospital last night.
Nicholas Hoyte, 29, a former resident of Fifth Street Alberttown, Georgetown who currently resides at Mc Doom, East Bank Demerara was sitting in his car when a white car drove by and a gunman leaned out and over into his car discharging about 10 shots.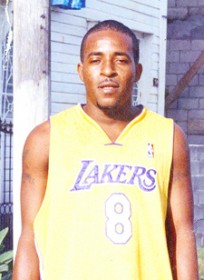 The dead man's older sister, Nancy Herod, told Stabroek News last night that Hoyte was visiting them in Alberttown last evening.
"He was here with us and he left saying that he was going around the corner," a distraught Herod said. "A lil bit after I received a message of what had happened."
Hoyte, according to reports from several persons in the area at the time, had parked his car at Sixth and Light streets, Alberttown and was sitting inside.
At about 8.45pm a white car, one man said, "came cruising by" and one of its passengers leaned over into Hoyte's car and discharged a number of shots at him.
The white car reportedly sped away right after the shooting.
"The whole thing happen so fast we didn't get to see much," one man said.
Meanwhile, Hoyte's relatives were reluctant to comment further about the incident.
When Stabroek News arrived at the public hospital some time around 9pm grieving relatives were still pouring in.
One relative, who said the man was her nephew came from the hospital's trauma room, where Hoyte's dead body still lay, screaming.
"Ow Lord! If you see what they do to him," the woman cried. "I count about seven gunshots about his body…one hit he right in the chest."
Hoyte's car, which a friend used to transport him at the hospital, was still parked in the medical institution's compound last night. Several persons, friends and relatives of the dead man, were seen crowding around the vehicle for a closer look even as police warned them not to touch.
The vehicle was later moved to the Alberttown Police Station.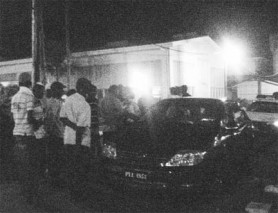 Over at the Sixth and Light streets location a crowd was still gathered.
Many persons were reluctant to speak when approached.
"Look I been stand up right around here when this thing happen…all I hear is a set of gun shot and by the time I rush on the road to see what happen all I see is a car speeding away," a resident said.
Police were present at the scene, hospital and Hoyte's former Alberttown home carrying out investigations. They had not, up to press time last night, issued a statement.
Around the Web