-husband says she fell
In January 1981 Indramattie Boladass agreed to an arranged marriage. During her first year as a married woman she suffered physical abuse which continued periodically throughout her life. She died on Monday almost two weeks after she was allegedly beaten severely by her husband.
Boladass, 49, died at the Georgetown Public Hospital (GPH) early Monday morning. Her head was a swollen, bruised mess; she couldn't talk because the inside of her mouth was badly damaged, her hip was fractured and there were marks of violence throughout her body.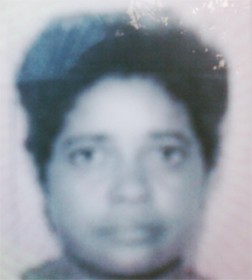 The dead woman's relatives believe that she died as a result of the beating she is reported to have suffered at her husband's hands. They are confident that the post-mortem examination, to be conducted today, will support their belief.
Rampertab Boladass has since denied these allegations. His wife, he insists, fell twice in their yard and was injured as a result. Standing in his Coconut Dam, Cane Grove yard Rampertab disclosed that he had given a statement at the Mahaica Police Station and was advised that one of his relatives should be present at his wife's post-mortem examination.
On March 2 Rampertab allegedly beat the woman. A resident, who requested anonymity, said the incident occurred in the afternoon of that day.
"He did was beating she," the resident said, "I remember it good. Was de day after Phagwah it happen and a neighbour had to run over and part de two ah dem."
This was not the first time that Rampertab beat his wife, the resident said. Over the years most residents learnt to keep their distance from the couple because Rampertab would threaten anyone who intervened in their quarrels.

Hamawattie Singh said that she learnt of what had happened to her sister on March 6 (the Saturday after Boladass was reportedly beaten). Singh lives at Strathavon, Cane Grove with their 82-year-old mother. Strathavon is a short distance from Coconut Dam.
"I was at de market shopping when somebody tell that meh sister husband beat she up bad and she lying down dead in the house," Singh recalled. "I left what I was doing and rushed to see what had happened."
She discovered Boladass on floor with a bowl containing "dry biscuit" and a cup of water near her. Her sister, Singh recalled, was unable to talk and couldn't move. Boladass lay on the floor in her excrement and was clearly in pain.
It was after Singh discovered her sister in that condition that Rampertab and other relatives took Boladass to the Mahaicony Hospital where she was admitted. Boladass was then transferred to GPH on March 12 after he condition worsened.
She was immediately sent to the x-ray department at the city hospital where it was discovered that her hip had been fractured.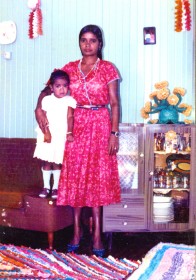 "I don't understand how Mahaicony hospital didn't know that my sister hip was fractured," Singh said.
Boladass, her sister recalled, finally spoke on the Sunday before she died. When Boladass was asked whether her husband (Rampertab) had beaten her she nodded her head in confirmation. She then told relatives "meh thirsty". Those were her last words. She died around 6am the following morning and Singh was informed of it almost three hours later by the hospital.
Singh said her sister, Rampertab and his 9-year-old niece lived at the Coconut Dam house. The couple's daughters, currently in their 20s, are now living with their reputed husbands.
Battered and starved
Rampertab and his daughters, Singh alleged, would hide the food stuff from her sister. Many days, she said, Boladass would go to neighbours' houses where she would get some food. It was a comment one of the neighbours made on March 2 that infuriated Rampertab.
The neighbour, Singh reported, told Rampertab that he has a good wife and should take care of her. "I can't feed you wife and feed me own to'", the neighbour reportedly told the man that day. Shortly after Rampertab returned home in a rage and began beating his wife.
"People also tell me that they see he drinking earlier de same day," Singh said.
Her sister's husband, Singh said, had stopped "drinking" for a while and recently started doing it again. Whenever Rampertab was on one of his drinking periods, Singh said, he would beat her sister. Last October Boladass had gone to her sister's home after she was beaten by the man. The October incident and others in the past were never reported to police at Boladass' insistence.
"We tried to bring her home many times," Singh told this newspaper, "but she does come and stay a two or three days and then when he [Rampertab] call she then she would go back…she never wanted to stay with us."
Singh believes that Boladass chose to stay with her husband because he threatened her.
About five years ago, Singh further said, Boladass' health began declining. She was suffering from hypertension and diabetes. It was then, when her sister needed care, that she was treated worse.
Rampertab and his relatives, according to her, have been saying that Boladass was "mental". However, Singh, other relatives and several residents have denied this.
A woman, who did not identify herself, stated that Boladass' health began deteriorating "about four or five years ago but she de never mad…is just sick she de sick and she never used to get food home…she does normally sit under this five-finger tree in she yard and eat that when she didn't get food from anyone…she de get weak."
Singh showed Stabroek News several pictures of the bruises on her sister's body. Boladass' arms, legs, hip and head were peppered with dark bruises. There was also a large bruise on her left breast and another beneath it. Her face was also swollen at different spots.
Rampertab
Boladass' widower was preparing for her wake when Stabroek News visited him at his home yesterday afternoon.
When he was informed of why this newspaper was visiting him Rampertab immediately invited us in and headed straight to a spot in the yard. He promptly begins to explain his version of how Boladass was injured.
He stands with a hand on his hip and points to a cylindrical object in the yard. His wife, he said, was complaining on March 2 that her head was "spinning". She came downstairs later that day to bathe, slipped, fell and hit herself on the object to which he points, Rampertab said. Later that day, he recalled, Boladass went downstairs to bathe again and fell a second time.
"One of we daughter was here and she holler and tell me that she mother fall down again so we go an pick she up, clean she and put she back in de house," Rampertab explained. Later the same say, Rampertab said he and their daughter took Bholadass to the Mahaicony Hospital where she was treated and released. However, Boladass' relatives do not believe this was done.
"This is na Cane Grove, this ah News Grove," Rampertab said when told about the allegations that he'd consumed alcohol and beaten his wife. "I never beat she."
It has been almost one and a half years now since he has been doing all the household chores, Rampertab said.
"I does wash clothes," Rampertab said, "and I does cook and do everything…I don't starve she..I does cook and de food does deh in de house."
Around the Web