Broadcaster and Justice for All Party leader Chandra Narine Sharma was yesterday released on $2M bail, after a brief stay in the Georgetown Prison.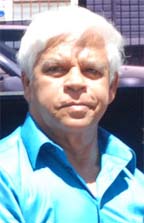 Magistrate Susanna Lovell granted Sharma bail at the end of a four-hour, in-camera hearing at the Georgetown Magistrate's Court. As conditions of his bail, Sharma is required to lodge his passport and report to the Criminal Investigations Department every Monday and Friday. He is scheduled to return to court on Monday, when the Preliminary Inquiry (PI) into the carnal knowledge charge is to begin.
The case was called yesterday for a report and Sharma's attorneys, Nigel Hughes, Vic Puran and Mark Waldron, used the opportunity to make another bid for bail. Director of Public Prosecutions (DPP) Shalimar Ali-Hack, commenting afterwards, said the prosecution opposed bail and was ready to present its case. However, the defence asked for more time to prepare its case and for bail to be granted.
While Sharma was in the courtroom, a crowd gathered outside the court, chanting for his release. The crowd, comprising largely women, became increasingly vociferous in the demands as the hours passed. Eventually police barricades had to be erected to keep them at bay.  They, however, remained steadfast in their support and cheered once they learnt that bail had been granted.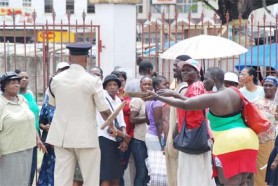 However, Sharma was immediately whisked away to the George-town Prison, inciting his supporters. Sharma's wife, Savitree Singh, pleaded with prison officers not to take him away and questioned why they were moving him when he was granted bail. Puran suggested it was merely an attempt to humiliate Sharma. He said that in 20 years of practicing law, he had never seen someone being granted bail and then taken away to jail. He opined that maybe someone wanted to have photographs of Sharma in and out of prison, for ulterior purposes.
Puran said Magistrate Lovell granted bail and then issued a remand order until the payment of bail. He said the police said he was taken away because no bail had been posted on his behalf.
When asked about the granting of bail, Puran said the DPP did not have a case. The main thrust of the DPP's argument related to witness tampering by the defence, he said.  However, Puran added that it was a non-issue, since the main witness was already in protective custody and the state has the capacity to take care of the others.  As such, any interference by Sharma and or his agents was ruled out.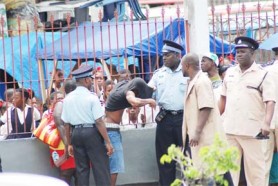 The argument that Sharma had faced previous charges for similar offences was not admissible, Puran said, noting that while he was charged, he was never convicted.
Puran later confirmed that Sharma was released from prison around 3 pm, after bail was posted.
On Tuesday, Sharma had appeared before Acting Chief Magistrate Melissa Robertson on one charge of carnal knowledge of a child who was seven years old. The charge stemmed from allegations made by the now 13-year-old complainant, who accused Sharma of molesting her. Sharma was not required to plead to the indictable charge and was remanded to prison by the magistrate.  He subsequently collapsed in the prisoner's chute and was rushed to the hospital. Later, he was scheduled to be taken to the prison but it was discovered that the committal order was not signed by the magistrate.  He suffered two fainting spells and was taken back to the Georgetown Hospital under police guard.
Around the Web