A Bagotville,West Bank Demerara (WBD) mother is mourning the loss of her 15-year old son, who died on Saturday afternoon after falling into a trench while ferrying a water bottle on his bicycle.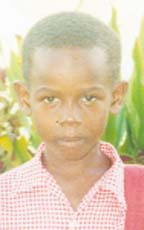 Dead is Shawn Adrian Vaughn, of Lot 65, Bagotville and a student of the St John's Community High School on the WBD. The lad's mother Shondell Vaughn told this newspaper yesterday that the eldest of her two children was on a  bridge crossing a trench opposite the family's home around 1pm that day when he fell into the water. The young man was ferrying a bottle of water on the bicycle at the time.
His mother told this newspaper that a girl was passing at the time when she saw Vaughn in the trench, "fighting up in the water." She said the boy "went under" within a matter of minutes and it was more than half an hour later before passers-by were able to retrieve his body. He was subsequently rushed to the West Demerara Regional Hospital where he was pronounced dead on arrival, and the matter was later reported to the La Grange Police Station. A post-mortem examination is expected to be performed on his remains today.
The lad's mother said her son was not a good swimmer, and on many occasions he would relate to her how fearful of the trench he was whenever he looked at the other children playing in the water. She said the loss of her son was a tremendous setback to the family.
Shawn Vaughn leaves to mourn his mother, an 8-year-old sister and other relatives and the funeral is expected to take place later this week.
Around the Web