The Carnegie School of Home Economics and Craft Production and Design Divi-sion yesterday held a one day health fair as part of the celebrations to mark its 77 years in existence.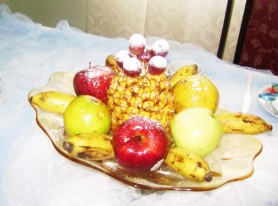 The fair, which was held at the school's compound, D'Urban and High streets, was declared open by Yvette De Freitas a public health nutritionist from the Food Policy Division of the Ministry of Health. De Freitas who was a former teacher of the school said the health fair is an indication of the school's effectiveness to provide education that is right and relevant.
She urged the students as they go through the sessions to ask questions and pay attention to their bodies since teenagers usually do not see the need to take care of their health.
Meanwhile, Avril Boston, clothing and specialist teacher at the school said that this was the second year the school has held a health fair which is aimed at educating students and visitors about a variety of subject areas so that they have an all-rounded health education.
Schools and persons within the school's surrounding were invited to the event. Representatives from the Ministry of Health, NAPS, the Ministry of Home Affairs and Guyana Responsible Parenthood Association, and Kevin's Reflections Salon were some of the organisations offering sessions on teen pregnancy, herbal medicines, alcohol and smoking, violence in school, HIV/AIDS testing and counselling and hair, face and foot care among others.
Carnegie School of Home Economics on Wednesday celebrated its 77th anniversary with a church service and an exhibition of the crafts and skills acquired at the school. Today, the school will hold a hot dog sale as it concludes the celebrations.
Around the Web