Divisional Commander David Ramnarine says that he is unaware whether the rank involved in the Bartica brutality matter was officially appointed a cadet officer but one of the victims, Winston Miller Snr is insisting that he saw him on television.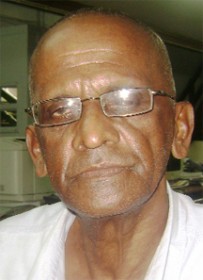 Contacted yesterday for a comment, Ramnarine said that he was out of the country when the incident took place but on his return he inquired about it.
He said that he was told that the investigation had been completed and was sent to a "certain authority". The Commander said too that the implicated ranks were transferred. The cadet officer was transferred close to the police headquarters, he said.
According to the commander he had heard that there was a meeting with the cadet officers but he has not been told that the implicated cadet officer was among the group.
An enraged Miller had told Stabroek News on Wednesday that while watching a television newscast he spotted the cadet officer who had brutalized him on June 5. He questioned if such a thing could be right especially since, the beating has left him blind in one eye. Doctors have since told him that he may never see from it again.
This newspaper was able to confirm through several police sources that the rank was indeed appointed a cadet officer by Police Commis-sioner, Henry Greene.
Miller said that the Guyana Police Force deceived him since they led him to believe that the rank and the two others implicated were still under close arrest.
He had recalled that sometime last week a senior officer in the E & F Division told him that the file was sent to the Police Office of Professional Responsibility (OPR) and that the findings would be released to the media. He was assured that the ranks were under close arrest.
The 69-year-old businessman and a patron were gun butted and kicked by the ranks after the cadet officer reportedly refused to pay the entrance fee to see the Ms Bootilicious Pageant. The pageant was being held at Miller's club. The officer who was in plainclothes at the time returned to the Bartica Police Station where he dressed in his uniform and collected his colleagues before going back to Miller's business place.
Around the Web