The brother of former boxing champion, Andrew 'Six Head' Lewis was found dead outside his Albouystown home yesterday morning.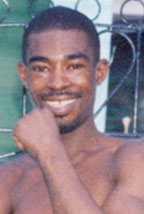 Dead is Shawn Wilkinson, 39, of 63 Hunter Street, Albouystown. He was found with blood oozing from his mouth and nose, his mother, Louisa Wilkinson said. She said that there were no marks of violence on his body and her son had suffered from tuberculosis.
Louisa told Stabroek News that at about 6 am yesterday, her son was found lying on the concrete outside the home. "I really don't know is what happen to he", she said. Wilkinson was rushed to the Georgetown Public Hospital where he was pronounced dead on arrival.
Louisa said that it seemed as though her son was heading towards a pipe in the yard when he died. She said that she last saw him at about 3:05 am yesterday when she heard his voice outside and saw him chatting with some people.
She said that Wilkinson did not have any trouble with anyone. Police took a statement and an autopsy is scheduled for today. Wilkinson was the father of an 18-year-old girl and he lived alone.
Around the Web