-tied up by gunmen, home ransacked
An Annandale businessman endured a harrowing ordeal yesterday morning after gunmen tied him up and ransacked his home for more than half an hour before escaping with cash, jewellery and important documents.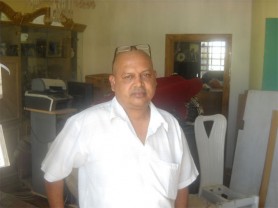 Gopi Niranjan of Lot two Courbane Park, Annandale public road was also the target of thieves over the weekend and he said yesterday that the two incidents have left him traumatized.
Speaking to Stabroek News at his home, a visibly upset Niranjan said that around 7:15 am the maid opened the gate to let an employee in at which point three men in a white car came up. Niranjan operates the Guyana Auto Sales at his home. From all indications, the bandits had carefully planned their attack. This newspaper was told that around 7:15 each morning, the maid would open the gate for employees.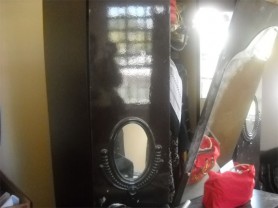 According to the businessman the maid reportedly told the men to wait outside but seconds later they forced their way in. "Next thing you know I was in my bed and two guns were pointing at me", he said adding that the two unmasked gunmen began demanding money.
"They throw me down on the bed, ripped my chain and ring off and tied me up", he recalled, adding that about 15 minutes later another staffer arrived and he too was tied up by the gunmen.
The businessman told Stabroek News that they were all tied up in a room for about 30 to 40 minutes while the gunmen ransacked the entire house which is under construction. From his accounts, there was one gunman guarding him and the two employees, another was with the maid and a third was outside the building.
Before leaving with an undisclosed amount of cash – in local and foreign currency and a case containing important documents and gold jewellery, Niranjan said one of the men taped his mouth.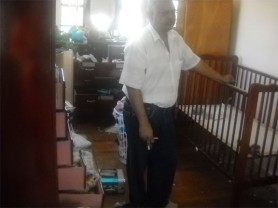 "They had a pretty long time in here", he stressed. No one was physically assaulted during the incident.
Police, he said arrived some 45 minutes later. Niranjan noted that he is satisfied with the work the police from the Vigilance Station have done so far.
During a tour of the house, this newspaper noticed that the bandits had broken the door of a wardrobe in one of the bedrooms.
The entire house was in disarray. The man told Stabroek News yesterday that on Monday his store, the Rite Price Wireless on Regent Street was cleaned out by bandits.
More than $3.6 million in cellular phones and other electronics were stolen.
Niranjan added that that his store has suffered robberies in the past but "I never came face to face with them".
Up to press time last evening there was no arrest in either incident.
Around the Web