The suspect in the murder of Claudine Bentham, who was found on the Kitty seawall with a slashed throat three weeks ago, has been arrested.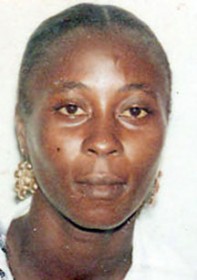 Senior police officials and relatives yesterday confirmed that the man, known as 'Zagga Zow' and 'Tall man,' was arrested earlier this week.
The circumstances surrounding his arrest are unclear.
The man, who was involved in a relationship with Bentham, 43, was positively identified as the last person seen in her company, prior to her brutal murder.
Bentham, who lived on Hadfield Street, was discovered on the grassy parapet between the seawall and the road on July 3. Relatives positively identified her three days later.
A senior police officer had said the man was the prime suspect, while relatives had told Stabroek News that they were suspicious since he was the last person seen with Bentham and had suddenly disappeared. The couple had last been seen having an argument in the Leopold Street area.
William Alfred, Bentham's brother, had said two days before the woman was killed, the couple had an argument and he tried to make peace. The day the woman was killed, Alfred also said, he saw the man, who appeared to be confused.
He said the man asked him for Bentham and he recalled telling him that he hadn't seen her since they left the previous night. Alfred also recounted noticing that there were dried droplets of blood on the man's hand and foot.
Around the Web