"He was a gentleman and gave Jack his jacket," is the way in which Sherlock Atwell will remember  his friend and former teammate Lennox Joseph Hunte who died at 20:00 hours on Wednesday at the Georgetown Public Hospital (GPHC).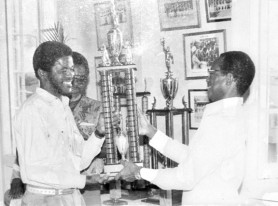 The two, according to Atwell, "go back a long way" and he will be missed not only by him but by members of the Demerara Cricket Club (DCC). It was learnt by Stabroek Sport that Hunte, 63, went into hospital on Monday and succumbed on Wednesday.
His only child Nikesha Hunte said that his illness was brief and his last days were peaceful. She remembers him as a loving and devoted father and said he will be sadly missed.
A sombre Atwell pointed out that up until his death Hunte held cricket close to his heart and it was displayed during his administrative years, which ended two years ago.
Hunte was the vice-president of the DCC for almost two decades, serving under current Guyana Cricket Board (GCB) president Chetram Singh (1982-1992) and Atwell (1992-2001). Humility prevented Hunte from becoming president of the club, Atwell noted, adding  that he "never wanted to be president."
However, he was positive Hunte "would have gotten the nod if he had ever run for the position." The former left arm orthodox leg spinner also served as the chairman of the Junior Selection Committee in the GCB up to 2007.
Atwell indicated that his friend was always fair in his assessments, especially as it related to cricket. His commitment to the club was also evident and  Atwell remembers that the only time he was away from it was during poor health and when he worked in Black Bush Polder, Corentyne, Berbice.
And even during that period when he returned to Georgetown on Friday afternoons he would visit until he left on Saturday afternoons.
Atwell also recalled  the dedication of another member who  had passed on – Fred Wills who was captain of DCC and a prominent lawyer.
During his heyday playing for the Queenstown-based club in the latter part of the 1960s, 1970s and 1980s, he represented DCC in third (Frank and Raja Cup), second (Wight Cup) and first division (Case Cup) cricket. He was also captain of the club and was upset when he lost, especially to the Malteenoes Sports Club (MSC).
He played with former West Indies legends Clive Lloyd and Roy Fredericks. He captained Andrew Lyght Sr., Steven Bamfield and the Harper brothers, Roger and Mark.
Atwell recalled  that Hunte, who batted right hand, scored a few half centuries but his five-wicket hauls were numerous, adding that at in one game, against Everest Cricket Club (ECC), Hunte took nine wickets in the innings.
Everest, at that time, had players of the calibre of Alvin Kalicharran and the Etwaroo and Pertab brothers.
President of the Georgetown Cricket Association (GCA) and longstanding member of the DCC Roger Harper yesterday expressed his condolences and sadness on the passing of Hunte. "He held cricket close to his heart and will be sadly missed by those who had the opportunity to befriend him," Harper was quoted as saying.
Harper said that he "knew Hunte since he was a boy" and Hunte was always one of the premier players in the club. Harper stated that Hunte was always committed to the DCC and it was a sad occasion to hear of his passing.
Harper first played under Hunte in 1979 in the Case Cup tournament.
Current DCC president Alfred Mentore indicated that Hunte was a disciplined individual who served Demerara and by extension Guyana's cricket well. He was passionate about the game and selected many national players who merited their place in the game.
According to Mentore he will be missed and cricket and cricket administration has lost a good player.
Around the Web