Minister of Culture, Youth and Sport Dr Frank Anthony on Wednesday signed a $70M contract for rehabilitation work on the Guyana National Stadium, which is expected to be completed in 12 weeks.
According to a Govern-ment Information Agency (GINA) press release the works entail cleaning and repainting the steel roof structures and rehabilitating several ticketing gates, drainage covers and a section of the drainage system. Work will also be done to correct several defects on the chain link fence.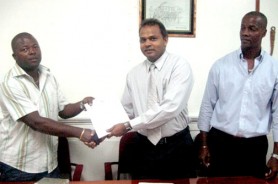 In addition 80 metres of access roads will be paved and several speed humps will be removed to ensure the free flow of traffic around the stadium.
Anthony also noted that the rehabilitation is necessary since it will help to expand the lifespan of the facility. "Any stadium around the world once constructed has to have an annual maintenance budget, but in Guyana's case we are now doing substantial work after three years of service," he said.
According to GINA, the contractor has been charged to complete the works within the schedule as there are already a number of events scheduled to be held at the stadium next year. "There is already a number of international events that will be coming to the stadium and therefore, the work must be done in a timely manner to reduce the loss of revenue," Anthony added.
Managing Director of Pioneer Contracting Services Seon McGregor is confident that the work will be done within the specified timeframe. Project engineer Walter Willis will be monitoring the work to ensure that the nation gets value for its money.
Recently another contract was awarded to Dipcon Engineering Limited for the construction of a massive all-weather tarmac on the outer concourse of the stadium.
Around the Web