Channel 6 owner and Justice For All Party leader Chandra Narine Sharma is back in the country and is still "unwell".
Following an article in yesterday's edition of the Stabroek News, which raised the question of where he was, Sharma contacted this newspaper. The television station owner told Stabroek News yesterday morning that he has been back in Guyana for several days now.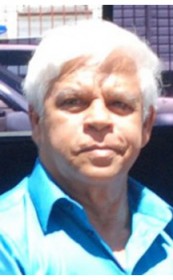 He initially agreed to speak with a reporter from this newspaper yesterday morning. However, when Stabroek News showed up at this Robb Street residence/office an employee said that Sharma was not well and would be issuing a press statement during the day. Up to press time a statement was still to be delivered.
Several weeks ago, Sharma was reported to have suffered a heart attack and was hospitalized locally for a brief period in September. The High Court subsequently granted him permission to leave the country to seek medical attention.
Sharma, in the care of his wife Savitri, spent some time in Trinidad being treated.
He was charged earlier this year with carnal knowledge of a child who was seven years old at the time. The charge stemmed from allegations made by the now 13-year-old complainant. Sharma was granted $2 million bail on that charge and his passport was handed over to the court. However, in late September Hughes approached the High Court and was granted permission for his client to travel abroad for treatment.
Around the Web