Police officers and ranks of the E & F Division pooled resources to bring much needed aid yesterday to the Chester family which had to flee Buxton during the crime wave some eight years ago.
During the charitable exercise  spearheaded by  Commandant of E & F Division, David Ramnarine and endorsed by Commissioner of Police, Henry Greene, a quantity of household items including a gas stove, iron and ironing board, toiletries and groceries were handed over to former Buxton resident Edris Chester.
Speaking at a simple presentation ceremony in Linden yesterday afternoon Ramnarine said that he was moved by a recent publication on  the plight of  Chester, a 71-year-old woman who was displaced from Buxton along with her family during the height of the crime wave.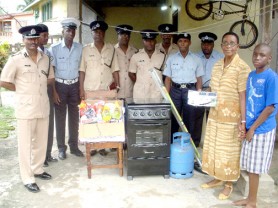 "And so I was really touched by her story because I remember the day when our country was experiencing a serious crime wave and she was one of the victims," Ramnarine recalled.
Chester and her family were among those whose houses were invaded and burnt by gunmen in 2002 following  one of Guyana's biggest jail breaks. Chester was forced to migrate from Buxton and take up residence in several other communities including Linden.
Now resident in Strathspey she frequently visits Linden where some of her family members remain. She was moved to tears by the generosity of the officers and said, "This here today shows that there is a human and generous side of police officers while you still have a lot more to do this is a touching beginning."
The items are valued at approximately $90,000 and according to Ramnarine the gesture is a small part of the police force's  initiative to show "the other side of police officers."
Around the Web