Up to yesterday afternoon, repairs to a section of the Boerasirie Conservancy dam that slipped had not yet started and residents said that they had alerted the ranger to the cracks several days ago but he cursed them.
After developing a major crack, a section of the dam at Canal Number Two slipped a few days ago, residents told this newspaper during a visit to the area yesterday afternoon. The fragile area is about 200 rods. One man said that he had alerted the ranger to the large crack that appeared prior to the dam breaking. "When this thing start, abeh stop the ranger (but) da man cuss up abeh," the resident said.
The slippage occurred since Sunday,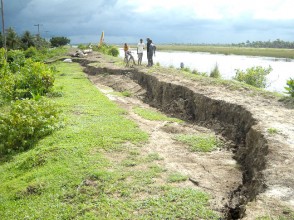 this newspaper was told but the large crack had appeared a few days prior. "There is no slippage…however there is a drop in the dam and they are working to fix it," Region Three Vice-Chairman Manpersaud told Stabroek News when contacted.
When this newspaper visited the area of the slippage yesterday afternoon, a few logs had been placed at the area but no work had started. At approximately 2:45pm, an excavator onboard a pontoon arrived and the operator parked there. Despite the rains, the water level in the canal was low and this newspaper was told that the 5-door sluice had been opened to "blow" the water to ease the pressure.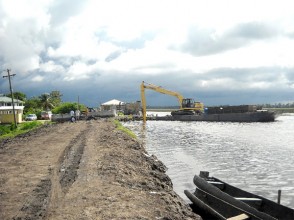 A punt was placed where the dam intersects the Canal Number Two main road preventing vehicles from driving on the dam. However, it also created an obstacle for residents to gain access to their homes or leave and some were irate about this. "How the people gon walk?" one man questioned. "Dem shoulda left a lil piece for people dem walk." Another man suggested that posts should have been placed there to prevent the vehicles from driving on the dam but allowing people to walk on the dam to get to their homes.
Around the Web