WASHINGTON,  (Reuters) – President Barack Obama  offered Americans an optimistic assessment of the Afghanistan  war yesterday, even as U.S. spy agencies and aid groups  express doubts about the progress amid worsening violence.  
Obama, under pressure to show results after criticizing his  predecessor George W. Bush for neglecting the war, said the  United States was on track to start pulling out troops next  July as planned.  
His defense secretary, Robert Gates, said it was too early  to say how quickly troops would be withdrawn, but Washington  hoped to accelerate the drawdown as more progress was made.  Obama wants to end the U.S. combat mission in Afghanistan and  transition to full Afghan security control by 2014.  
A five-page unclassified summary of the White House review  said U.S. and NATO forces had made "notable operational gains,"  halting the Taliban's momentum in many areas and disrupting al  Qaeda. But it said the gains were fragile and reversible and  that major challenges remained.  
It reported substantial but uneven progress in the U.S.  relationship with Pakistan, whose lawless tribal areas are  widely seen as the main obstacle to Obama's strategy succeeding  because of the relatively free flow of militants across the  border into Afghanistan.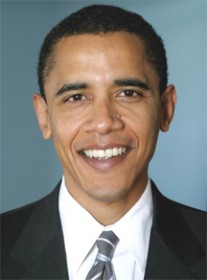 "I want to be clear, this continues to be a very difficult  endeavor," Obama said at the White House on Thursday, a year  after he ordered 30,000 more troops to Afghanistan. But, he  added, "We're on track to achieve our goals."  
The review comes at the end of the bloodiest year since  U.S.-backed Afghan forces ousted the Taliban as the country's  rulers in 2001, with almost 700 foreign troops killed so far.  At least 477 of them were Americans. Yet Afghan civilians bear  the brunt of the conflict as insurgents expand from strongholds  into once-peaceful areas in the north and west. 
 
Yesterday, a roadside bomb killed 14 civilians in western  Afghanistan and four Afghan soldiers died in a U.S. air strike  overnight.  
There were no surprises in the summary, whose conclusions  had been well-telegraphed by U.S. officials in the lead-up to  yesterday, and it included no supporting data for its cautiously  positive findings. 
 
Afghan President Hamid Karzai, Obama's key ally in the war,  did not rate a mention in the document. The two men have had  sometimes-tense relations and critics accuse Karzai of failing  to clamp down on corruption and improve governance.  
The upbeat public assessment of the war by U.S. military  officials and the White House is not shared by America's  intelligence agencies and aid agencies working in Afghanistan.  
U.S. spy agencies have given the White House a more  pessimistic assessment of the counter-insurgency strategy. Two  officials told Reuters the agencies believe long-term progress  in Afghanistan will remain difficult until Pakistan takes  firmer action against militants on the border.
Around the Web