A Guyanese woman -described as a prominent real estate agent from the Schenectady, New York Guyanese community – and her Trinidadian husband were on Wednesday sentenced to five years in prison after they were found guilty of money laundering and bank fraud, an Albany Times Union report has stated.
The couple, Kamla and Baldeo Sahabir are now fighting to stay out of prison and have since filed appeals.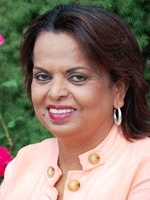 "I'm optimistic we will get over this and in the end everything will work itself out," Kamla Sahabir told the newspaper on Thursday.
In addition to the jail term, US District Court Judge David Hurd also ordered the Sahabirs to repay US$3.6 million but the woman said the restitution is "unrealistic."
The report said her husband could be deported to Trinidad if he is incarcerated because unlike his wife he is not a naturalized citizen.
The woman's attorney, E. Stewart Jones, said his client has until March 29 to surrender, and her husband has until next month. In the interim, Jones said, he plans to file a second motion for a retrial and appeal the conviction.
In August, Kamla Sahabir was found guilty by a jury on six counts related to bank fraud and laundering cash through American Seva International, a Hindu temple in Schenectady. She was acquitted on four charges. Jurors convicted Baldeo Sahabir of all 10 charges. He took the witness stand. Kamla Sahabir didn't, the report said.
The report said that authorities have said the husband and wife, with the help of Lal B. Singh, who worked as a manager at Bank of New York in Manhattan overseeing unclaimed funds, funneled more than US$2.4 million in unclaimed funds from 2003-07 to an account associated with the temple. The three split the cash. The total amount stolen, authorities say, is US$3.5 million. Authorities say Singh committed the fraud by setting up phony payouts to the Sahabirs and other accomplices.
Singh was arrested in August 2007 on charges that included conspiracy to commit mail fraud. He pleaded guilty to a related charge; the deal called for him to testify against the Sahabirs, the report said.
Kamla Sahabir has stressed her service in the community since moving to Schenectady and involvement in the temple. An agent with Prudential Manor Homes, she worked to bring Guyanese immigrants from downstate to Schenectady and formerly served on the Schenectady Planning Commission.
Around the Web