NEW YORK (Reuters) – Outgoing New York Governor David Paterson was handed a $62,000 fine yesterday by the state's ethics watchdog for unlawfully taking free baseball tickets to the 2009 World Series. The state's Commission on Public Integrity found the governor had solicited five tickets from the Yankees to the first World Series game for himself, his son, his son's friend and two aides.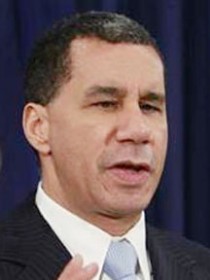 Paterson violated the public officer's law by accepting free gifts from a registered lobbyist, the Yankees, the commission found. The penalty was $62,125.
Paterson claimed he had attended the game as a public official in a ceremonial capacity, and that he had subsequently paid for his son and his son's friend. But the commission said "the evidence demonstrates that the governor did not pay and had no intention to pay for any of the tickets for Game One." A spokeswoman for Ted Wells, Paterson's attorney, was not immediately available to comment on the fine.
The allegations of the free tickets surfaced in March just after the governor abandoned a short-lived campaign for a new term in office. He had quit the campaign following revelations that he and state police had spoken with a woman who accused a top governor's aide, David Johnson, of assault.
Paterson, the state's first black governor, took over in 2008 when former Governor Eliot Spitzer resigned amid a prostitution scandal. New York Attorney General Andrew Cuomo will take Paterson's place in Albany next month.
"The governor set a totally inappropriate tone by his dishonest and unethical conduct," commission chairman Michael Cherkasky said in a statement. "Such conduct cannot be tolerated by any New York State employee, particularly our governor."
Around the Web