A blaze close to popular Water Street store, Giftland OfficeMax created a scare in the busy shopping district after midday yesterday and prompted a strong reaction from the store's management to the welding activities which started the blaze.
This is the third time for this year that the store has endured a fire scare from the welding, Giftland's President Roy Beepat told Stabroek News.
The empty lot where the blaze started is owned by the Avinash Branch stores and according to Beepat, they "seem to have this thing" about welding next to Giftland's generator room. "They (welders) have no safety systems", he said. "The Fire Department has to stop this…this is definitely a fire hazard".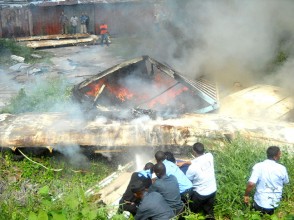 Contractor Mohamed Ally told police that they were using a welding torch to cut up old buses for scrap metal. The welding ignited some dry grass and other materials and the flames erupted and thick smoke was seen. Beepat said that the blaze started at 1 pm and by 1:20 pm the Fire Department arrived on the scene and by 1:30 pm, it was out. Giftland's generator is located next to where the welding was taking place and the fire alarm was automatically triggered.
Beepat said that it took about five minutes to evacuate customers and staff and it was orderly and no injuries were reported. About 600 gallons of fuel is stored in tanks close to where the blaze occurred.
As the thick black smoke billowed, persons in the immediate vicinity rushed to the scene and police were deployed to control traffic. Some stores in the area shut their doors.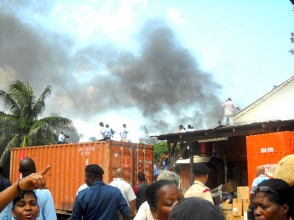 Beepat said that his store suffered no damage but reiterated that the fire service should rein in the welding activities. Shortly after the blaze was doused, the store reopened.
Ally, after speaking with officers on the scene was taken to the police station to give a statement.
Previously, last year, after another blaze erupted at the same area, General Manager of the Avinash branch stores, Harry Panday had accepted culpability for that fire which was also triggered by welding activities on his neighbouring property.
The Water Street property which Panday purchased from government several years ago was crowded with old vehicles, many grounded near the southern half of the compound in close proximity to Giftland.
The businessman had said he had been forced to cut up the abandoned vehicles because it was impossible to remove them "without tearing them up". Panday had told Stabroek News that he had hired a team to cut up the vehicles and that "welding is involved".
He had said then that efforts to clear the compound of the abandoned vehicles would continue, but that new precautionary measures would be put in place to prevent a recurrence.
Only a few derelict vehicles are now left in the compound.
Around the Web