The complement of magistrates was further increased yesterday when attorneys-at-law Leron Daly and Leslie Sobers were sworn in at a brief ceremony hosted at the Office of the Prime Minister.
According to a press release from Tagman Inc. Daly graduated from the Hugh Wooding Law School in Trinidad and Tobago with a Legal Education Certificate after leaving the University of Guyana with a Bachelor of Laws Degree with credit. She served as an intern at the Cameron and Shepherd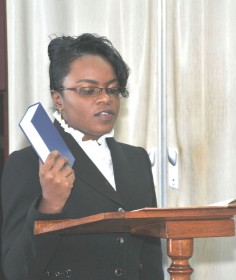 law firm and later as State Counsel in the Chambers of the Director of Public Prosecutions. Daly has been performing the duties of Legal Officer at the Guyana Revenue Authority since March.
In his address at the swearing in ceremony, Prime Minister Samuel Hinds said it is vital that magistrates practice impartiality and good judgement. "I believe that the increasing number of people accepting to serve as Magistrates augurs well for the future. Taking this step must be commended and all efforts must be made to ensure that a good crop of persons continue to enter the magistracy," he said.
Chief Justice Ian Chang also noted that magistrates should be fearless and dispense justice in a transparent and an even-handed manner.
He said that it is important that they familiarise themselves with all the relevant legislation which will help them to exercise discretion reasonably. Chang also noted that "When bail is refused it is incumbent on the Magistrate to ensure that the matter is dealt with expeditiously…it is important to remember this at all times."
Acting Chief Magistrate Priya Beharry echoed these statements. She also underscored the importance of considering matters soberly to arrive at impartial decisions.  The key to this, Beharry said, is to allow God and one's conscience to guide decisions and judgement.
Around the Web