MOSCOW, (Reuters) – Jailed Russian tycoon Mikhail  Khodorkovsky cast Prime Minister Vladimir Putin as a pitiful but  dangerous leader in a newspaper article yesterday ahead of the  verdict in Khodorkovsky's second trial.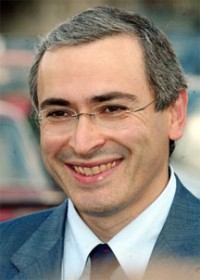 In a strongly worded piece in the daily Nezavisimaya Gazeta,  Khodorkovsky said he felt pity for the Russian premier,  describing him as a self-isolated and feared man.
Facing a possible six-year sentence on top of his eight-year  term, Khodorkovsky hinted he could enter politics after his  release, saying "we will develop our country ourselves".
"We can do it. We are the people, after all. And it is ours.  Russia," Khodorkovsky wrote.
Once Russia's richest man and head of its biggest oil  producer, Khodorkovsky said corruption has increased tenfold  since Putin came to power in 2000 and described the premier's  claims to have improved Russia's stability as a sham.
He is serving an eight-year sentence handed down in a fraud  and tax evasion trial supporters said was Kremlin revenge for  perceived challenges to Putin.
A judge is to begin reading the verdict on Monday in  Khodorkovsky's second trial, on theft and money-laundering  charges he calls absurd. Prosecutors want the judge to sentence  him to six additional years, keeping him in prison into 2017.
Khodorkovsky made no mention of the trial or verdict, which  many Russians believe will be decided in the Kremlin.
The publication came after Putin, in a televised phone-in  with Russians nationwide last week, said that "a thief must be  in jail" and suggested Khodorkovsky was involved in killings.
Khodorkovsky's lawyers have threatened to file a complaint  with the European Court of Human Rights, saying Putin's remarks  would pressure the judge to hand down a guilty verdict.
Around the Web