Fire shortly before noon destroyed a Victory Valley, Linden home leaving five persons homeless on Christmas Day.
Now homeless are Sherry Rose and Glenrick Gordon aka `Tuntun' and their three children Irity, 8, who is celebrating her birthday today, Iritical, 4, and Iriydria, 3. At the time the three children were home with their mother Sherry.  It is unclear how the fire started and an emotional Sherry refused to speak about it. According to a neighbour, Dianne Bennett, she was first on the scene and was relieved when she saw the children unhurt.
The woman said that her husband had just returned from the streets when he alerted her to the blaze coming from the neighour's house. "He seh look like fire at Sherry and I run out and see deh whole house on fire I hold meh head and holla cause I didn't know what about dem children", said Bennett.
The woman said that she was relieved when she saw the woman and her three children at the back of the yard unhurt. They were all crying and the children were naked. By the time Stabroek News got to the scene the three-bedroom house was completely burnt with nothing spared. The two younger children were whisked away to the home of a neighbour while the 8-year-old was hugging an aunt.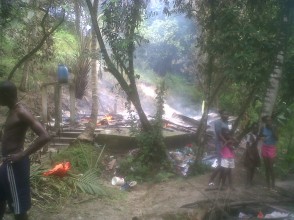 The mother, Sherry,  at the time was crouched on the ground and for more than an hour was refusing to speak to anyone including her neighbours, relatives and friends. Persons speculated that the woman was frustrated after her partner, Gordon returned to the interior where he works last Monday. His sister said that he man frequents the interior. "I talk to he only yesterday and he tell me he wanted to come back today fuh Irity (the 8 year old) birthday," said the woman who chose not to be named.  She said that he had had bought a washing machine shortly before leaving.
Despite the quick response of the fire-fighters their efforts to control the inferno were hampered by the location of the house. Two fire tenders were at the scene but the house could not be reached down the gully of Victory Valley, Wismar. "We, nor the firemen couldn't do nothing but stand by and watch it burn to the ground." said a neighbour.
The couple has been living in the area for more than ten years. Police at Linden are investigating.
Around the Web