(Trinidad Express) Already crippled by record low tourist arrivals, Tobago was given another blow after a British couple who were attacked by a cutlass- wielding man at their Bacolet home last year made a public appeal for nationals of the United Kingdom to stay away from the sister isle.
In an article published by the English newspaper – the Daily Mail – online edition on Christmas Day, Peter and Murium Green used the opportunity "to tell the truth about what happened now in the hope that it puts British people off going there".
"It's the only weapon we have," said 66-year-old Peter.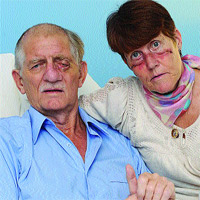 One aggravating factor, the couple said, was when a man, who they identified as Farid Hinds, who claimed to be an official of the Tourism Ministry based in Tobago visited them in England months after the attack bearing gifts — a miniature steelpan and a brightly patterned beach wrap.
The couple said they invited Hinds into their home and, in return, they were asked to return to Tobago to take part in Carnival.
"He wanted us to sit on a float and tell everybody what a fantastic country Tobago is," says Murium.
On August 1, 2009, the Greens were attacked by a man armed with a cutlass while they slept on the back patio of their holiday home. They had only returned to Tobago from their home in Somerset, England the day before as Peter had recently been diagnosed with prostate cancer and had decided on the spur of the moment to take a two-week break before starting radiation treatment.
The attacker reportedly strolled into the garden and, without reason or warning, hacked them almost to death.
Murium, 61, suffered wounds to her face and jaw, while Peter suffered wounds to his face and head.
The couple were taken to the Scarborough Regional Hospital, where they both received preliminary treatment before being air-lifted to the Eric Williams Medical Science Complex in Mount Hope.
Murium underwent operations to rebuild her shattered face, while Peter spent two weeks in a medically induced coma to help reduce the swelling on his brain.
Doctors never expected him to survive and even called in relatives and asked them to bid him farewell.
In the Daily Mail article, however, the couple spoke of being mistreated at the hospital and described the facilities as inadequate.
"I've never spoken about this before, because I didn't want to cause any further trouble for Trinidad and Tobago, but I found some of my treatment in the hospital appalling".
"The doctors did all they could for me but one nurse would whisper to me that I was a 'white bastard' and that I would be 'punished' at night".
"On one occasion, my sister saw a nurse washing my open wounds with a cloth which she had previously used to wash my bottom. When my sister complained, the nurses refused to let her in to see me for an entire day".
"The truth is, there are some Tobagonians who hate foreigners and aren't afraid to show it. The entire time I was in hospital, I was terrified. When I finally flew home after three weeks, I'll never forget the relief I felt," said Peter.
Peter and Murium told the Daily Mail that once back in Britain, they concentrated on trying to get better.
Due to his head injuries, Peter said he had to spend a month learning how to walk again, and then underwent seven weeks of radiation treatment for his cancer, which is now in remission.
Unfortunately, the couple said that was the only good news they have received since.
Peter said he still has no feeling in the left side of his body and needs Murium's help with basic tasks.
He said too that he has to wear hearing aids and because he suffers double vision in his left eye, he requires glasses with one cloudy lens.
The couple, however, went on to add that they have not yet received any of the compensation promised to them by Chief Secretary of the Tobago House of Assembly (THA), Orville London.
"We're not poor; we worked hard and saved for our retirement. But we've had to spend a lot of money on our rehabilitation. We're entitled to nothing from the British Government because the attack happened abroad, but we feel very upset and disappointed that we've had nothing from Tobago. It feels as if they don't care," Peter said.
Clint Nigel Alexis, 25, of Breadfruit Alley at Argyle, Tobago, who is currently behind bars charged with two offences of attempted murder arising out of the attack on the Greens, is scheduled to reappear in court on January 11.
The couple also question why the case against Alexis has been adjourned over and over again, and why no news has been forwarded to them.
Peter said when he called the police sergeant in charge of the investigation to enquire about a new date for the trial, the officer told him he did not know.
Shortly after the attack, the couple's villa had been broken into. The burglar tore out the plumbing and stole everything valuable – from the couple's video camera and sound system to clothing and jewelry.
The Greens are now in the process of arranging for a builder to repair the damage so they can sell the home they once considered a haven.
"I just want this nightmare to be over so we can get on with the rest of our lives," Murium said.
In an exclusive report carried in yesterday's Sunday Express hoteliers reported that Tobago was currently experiencing the lowest tourist arrivals in the last 30 years.
According to the report, traditional visitors from the United Kingdom, Germany and other parts of Europe have cut back on travel because of the downturn in the global economy.
And recent cancellations of flights because of snow at main-hub airports like Heathrow, in the United Kingdom have badly affected the tourist figures in this current high season.
But with calls from crime-affected tourists like the Greens, there is fear that the tourist-driven island could be crippled.
During a telephone interview with the Express yesterday, Minister of Tobago Development Vernella Alleyne-Toppin, described the attack on the Greens as "unfortunate" and "sad" but promised to investigate the incident, and their claims, to the fullest extent.
"We are going to look at this from all angles. We are going to try and get in touch with the Greens because this is bad for us, more importantly, it's bad for them, but its also bad for tourism," she said.
Asked about the compensation claims, Alleyne-Toppin said she could not address the situation as the incident took place in 2009 and they came into office in May 2010 but said she would speak to the Chief Secretary about it as they cannot allow "bad publicity to continue".
Attempts by the Express to reach London and Tourism Minister Rupert Griffith proved futile as calls to their phones went unanswered.
Around the Web