By Floyd Christie
Former American Basketball Association (ABA) player Samuel Grannum, who is conducting a coaching clinic at the Cliff Anderson Sports Hall is of the view that  basketball scholarships are there and are available to local players.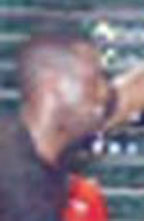 The 6'6 forward who played at the college level for West Chester University in Pennsylvania and professionally for the Philadelphia Fusion told Stabroek Sport that there is a misconception about that it is difficult to acquire basketball scholarships locally.
Grannum said youngsters who seek such awards…"need to understand the educational comparison between a High School aged player here and in the States," and bridge the gap by meeting the necessary educational and scoring requirements.
He encouraged interested players to research the requirements and compare them to High School players overseas.
The former ABA player also said he observed "a couple of guys" he believes have the ability to play at the division three level in overseas leagues.
"If they work hard on their weaknesses over the next few months, I do believe that they have the potential to get an opportunity to get a scholarship and play league basketball," Grannum said. He added that players need to recognise the importance of hard work and improve their work ethic because… "In the States everyone understands how available scholarships are and people are going after them."
Grannum also said he believes that if Guyanese children set goals and believe that they can achieve those goals no obstacle would stop them from reaching their dreams.
He, however, said they have to be prepared to be.. "The hardest workers….In their mind(s) they have to tell themselves I have to be the hardest worker on the team."
Around the Web