-finds he was not registered
By Tamika Garnett
Guyana's athlete at the International Athletics Association Federation (IAAF) World Junior Championships, Chavez Ageday yesterday found out that he could not compete in the 200m race as he was not registered.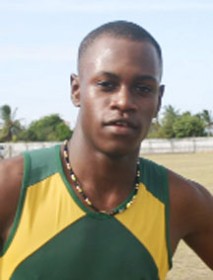 He was up to yesterday left in Moncton, Canada without a representing official after the appointed official reportedly went home.
According to Ageday, Andrew Harry, the overseas-based Guyanese who had travelled from the United States to act as his manager returned home on Wednesday to leave Guyana's only attending athlete by himself in Canada.
Ageday via e-mail yesterday to Stabroek Sport said that his last correspondence with Harry took place on Wednesday morning at around 6 AM, when Harry came to see him at the Mount Allison University where he is being accommodated at present.
The 16-year-old athlete said that Harry told him that he was returning to the USA after things were "not working out" with his hotel arrangements.
"He [Harry] said that he is going back to New York because the hotel is not working out for him. He gave me an envelope containing my results and the accommodation fee for the team leader, to give to Mr. Boyce," Ageday stated, referring to President of the Athletics Association of Guyana (AAG), Colin Boyce.
Not registered
Moreover,  Ageday was left to spend the day in the computer lab of the university after he had discovered that he was not registered for the 200m that was scheduled on yesterday's list of events.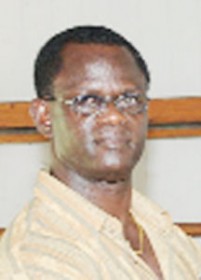 Being left without a representing official, Ageday arrived at the track yesterday morning only to be met with utter surprise when he saw that his name was not on the list of competitors scheduled for the 200m, which he had been told in Guyana that he would be running.
Ageday stated that after seeing this he spent some time at the track before returning to the university where he spent the rest of his day.
Ageday related that he felt awful about not being able to participate in the race particularly since he was confident about his chances of obtaining a medal in the race.
"I feel really bad about this, because I know I would've medalled in that race," Ageday stated.
Ageday had travelled from Guyana on Saturday, and was met by volunteers at the Canadian Airport, since Harry did not arrive from New York until Sunday. Upon his arrival, Ageday met Harry on Sunday morning at the university, where Harry took the two to get their accreditation for the meet.
Ageday related that from then he would travel every day to the track where he would meet Harry, after Harry had explained to him it would be better for the two to meet at the track since the distance from Harry's hotel to the university was considerably long.
The national sprinter was selected by the AAG to attend the event. Ageday was the only athlete selected after the AAG had been allotted only one "wildcard" to select and send an athlete, after none had made the qualifying times for any of the races at the championships.
Boyce yesterday stated that Ageday was  registered as an unqualified athlete and was only eligible to run in one event but  he still  sent Ageday in the hope that he would be able to run both races.
As it pertains to Ageday being left alone, Boyce stated that after speaking with Harry he was told that Ageday was left in the care of a coach from Jamaica while he, Harry, had to leave to deal with some family concerns. Boyce stated that according to his understanding Harry had never left Canadian soil and would be returning to continue to assist Ageday for the remainder of his stay in Canada.
Raymond Daw, coach of the Ruralites Athletics Club, with which Ageday trains, related that he was very irritated about the situation that his athlete is experiencing.
"I am not happy about this!" Daw stated, adding that he was all the more perturbed that he was not even considered as a possible official to travel alongside his athlete to the meet. Daw further stated that had the AAG approached him and finance was a trouble he would have been willing to personally assist with the expenses.
Furthermore, Daw said, prior to Ageday's departure for the meet, he was not being informed about any of the plans for the athlete and had to be receiving information from the athlete's parents.
"I am even more mad because prior to Ageday leaving I wasn't invited to any meeting to find out about what is going on with my athlete. I had to be getting information from his mother," Daw related.
In the past, coaches have repeatedly made known their concerns about the arrangements pertaining to officials being selected to accompany the travelling athletes when they are selected for overseas meets.
Around the Web