Cleveland Thomas is one athlete who is pleased with his performance for the year, having raked in seven trophies and a medal, not to mention clocking a new personal best in the 800m.
The 24-year-old distance athlete began his year with a third place finish in the Athletics Association of Guyana (AAG) National Cross Country Championships that were held in January. He then went on take part in De Gold Strikers Games, an interclub meet held in July. Representing his club, Running Brave, Thomas won the 800m, 1500m and 5000m events and took the 'champion boy' title as a result.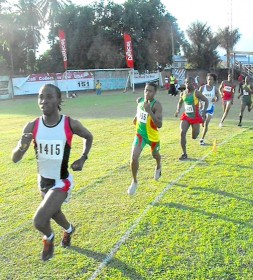 Thomas then took his skills beyond Guyana's borders when he participated in the Trinidad and Tobago Hampton International Games. There, Thomas finished third in the one mile event, and fourth in the 800m and 5000m races.
Following this was Thomas' third place finish in the Ainlim 10km Road Race, where he finished in 37:26s.  His fifth trophy for the year came off his excellent performance at the inaugural President/Jefford Track and Field Classic inter club meet, where his performances had him receiving another 'champion boy' title having secured first place in the 1500m and second in the 5000m.
In an 800m invitational at the Guyana Police Force Championships, Thomas won another trophy for his leading finish where he clocked a time of 1minute 57 seconds. At the following Joint Services Championships Thomas clocked a winning performance in a 400m invitational.
On to the National Youth, Junior and Senior Championships in September Thomas recorded a grass track personal best for himself in the 800m where he ran 1:56.50s. Speaking with Stabroek Sport Thomas shared that this was the highlight of his year.
"Clocking that PB in the 800m that was really great for me, because earlier in the season even though I was doing reasonably well I wasn't doing as good as I wanted to. Timings that I had hoped to see earlier in the season hadn't come until later in the year, and so seeing my time improving and then clocking that PB was really great."
Thomas ended his year's participation with a run in the first leg of the South American 10K, which was held in Guyana, clocking a finish of 36:39.00s. Now with his year at a close, Thomas said he is enthusiastically looking forward to producing more leading performances next year.
Like many athletes, Thomas has his goal set on one day participating, and even medalling, at the Olympic Games. But on the immediate front Thomas is hoping to make qualifying times for World Championships and/or Pan American Games which are slated for next year.
"My coaches are working with me for next year seeing how next year is a championships year, they'll be the World Championships and the Pan Am Games, and I heard that they may be having the Caribbean Games, so I'm just working and hoping to get to these events."
Thomas trains under coaches Sham Johnny and Julian Edmund, both of whom think that he has what it takes to get where he wants to go.  Johnny described Thomas as a very dedicated and disciplined young athlete.
"He's very dedicated, he's disciplined, he knows what he wants and he works very hard to get it," Johnny said.
However, while he believes wholeheartedly in the capabilities of his athlete, Johnny said that for Thomas to attain the peak he would require some vigorous training that he just may never get in Guyana.
"Yes, he has the ability and he works for it but the support is lacking. He has to get financial support to train at those high performance facilities, where he can really develop his skills," Johnny said
Nevertheless, like all of Guyana's athletes Thomas is it in for the love of the sport, and asserted that he will continue to drive forward in the hope that he will one day receive the level of sponsorship he needs to attain his goals.
"It's kind of tough but because I have a love for the sport and because I have two coaches who support and encourage me 100% to go out and give my best that I continue," Thomas said.
Asked how he expects to finance his next season Thomas said he has hopes that he will be able to get a sponsor for his next season.
Around the Web