DURBAN, South Africa, (Reuters) – India will welcome  back paceman Zaheer Khan from injury to bolster an attack that  was pulverized by South Africa in a one-sided first test when  the second test starts in Durban tomorrow
.
The number-one ranked test team were crushed by an innings  and 25 runs at Centurion in the first of the three-match series.
The game was put beyond India in the first two days when they  were skittled for 136 before the hosts piled up 620 for four  declared.
Conditions are expected to be similar in Durban, where a  humid atmosphere and the usual overcast conditions ensure plenty  of assistance for bowlers. Zaheer is set to replace Jaidev  Unadkat.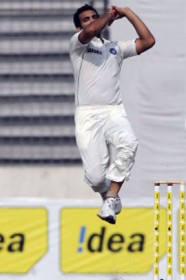 "We need 20 test wickets and we've shown in the last three  years that we have the ability to do that on any surface," India  coach Gary Kirsten said.
"We were well-prepared for the last test but it was a tough  pitch to bat on the first day and we let ourselves down a bit,  we needed a 100 more runs.
"If one of our top six can score a big hundred, then we will  get to 400. The guy that's in needs to bat for a decent time  because if you don't get around that 400 mark then you put  yourself under pressure."
South Africa are ready for an India backlash and will not be  complacent, captain Graeme Smith said.
"It was great to start the series well and it would be great  to carry it on in Durban. If we can go 2-0 up it would be  fantastic, but we need to keep our feet on the ground and work  to that point.
"It's about getting our skills right here in Durban, finding  the right areas with the ball and knowing our game plans with  the bat. If we can do that then we can really build on our  success in Centurion and it will be tough for India."
Hashim Amla will celebrate his 50th test on his home ground  and will be at the forefront of a powerful South Africa top six  that has collectively motored to 19 centuries in 10 tests this  year.
"It's going to be a big test match for Hashim, but he's the  type of guy who takes these things in his stride, which is one  of his biggest strengths. He is very composed, very disciplined  and very calm, and I expect it to be no different here," Smith  said.
"He is one of the better players around the world which is  fantastic for us."
Amla has scored five centuries this year and averages 85.71,  while Jacques Kallis, who had the nation in raptures last  weekend with his maiden test double century, has amassed six  centuries and averages 90.07.
The ailing Indian batting line-up could well be beefed up  with Cheteshwar Pujara earning his second call-up in place of  Suresh Raina, who scored just one and five at Centurion and was  caught in the slips in both innings.
Probable teams:
South Africa – Graeme Smith, Alviro Petersen, Hashim Amla,  Jacques Kallis, AB de Villiers, Ashwell Prince, Mark Boucher,  Wayne Parnell, Dale Steyn, Paul Harris, Morne Morkel.
India – Gautam Gambhir, Virender Sehwag, Rahul Dravid,  Sachin Tendulkar, Vangipurappu Laxman, Cheteshwar Pujara,  Mahendra Singh Dhoni, Harbhajan Singh, Zaheer Khan, Ishant  Sharma, Shanthakumaran Sreesanth.
Around the Web