Four national women cricketers who have been selected to tour India with the West Indies women's team early next year recently received a large monetary donation from the Guyana Floodlight Softball Cricket Association (GFSCA).
June Ogle Thomas, Sabrina Munroe, Tremayne Smartt and Shemaine Campbelle are the four Guyanese selected to play for the West Indies in India.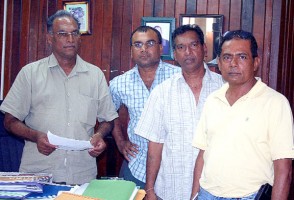 They will depart Guyana on January 1 and return on January 26.
Two of the four players participate in softball competitions with Ogle Thomas playing for Trophy Stall Angels and Campbelle playing for Letter Kenny Heavenly Angels while Smartt and Munroe said they were looking forward to participating in the nationwide softball tournament which starts on January 23.
The timely donation of $250,000 from the GFSCA is, according to vice president of the association Ricky Deonarine, "to assist with their personal expenditure."
The four players thanked the GFSCA for its donation and said they are eager to participate in the female version of the tournament on their return.
According to a release from the GFSCA, they are duly authorized to run off the tournament which commences on January 23.
The softball competition will be held in three categories male over-40 years old; male Open 15/15 and female Open 10/10.
The male Open 40 years old tournament will be of 25-overs-a-side duration while the other two competitions will be 15 and 10 overs-a-side affairs respectively.
Winning teams for each category will receive $50,000 and a trophy while the runners up will receive $25,000 and a trophy.
Players of the match in the final will receive $5000 and a trophy while the players of the tournament will also receive $5000 and a trophy.
Interested teams are asked to make early bookings with organiser Wayne Jones on 650-1790 or 225-0994 or e-mail guyanafloodlight@hotmail.com.
Around the Web